Great Britain's para-cycling team made their names known on day one of the UCI Para-Cycling Track World Championships, taking an incredible three world titles.
Kadeena Cox kicked off the medal haul with a gold in the women's C4 500m time trial, Fin Graham took the world title in the men's C3 scratch race and James Ball, Steffan Lloyd, Libby Clegg and Georgia Holt became tandem team sprint world champions.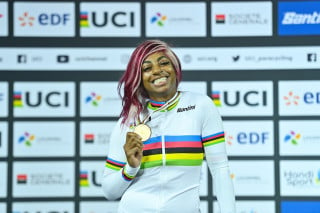 Women's 500m time trial
Kadeena Cox stormed to Great Britain's first world title of the championships in the C4 women's 500m TT, taking gold with a calmly executed final ride. Cox dominated the field with a time of 35.660 - 1.683 seconds faster than silver medal winner Kate O'Brien of Canada.
On the world title, Cox said: "It's nice! It's been three and a half years since I was last world champion so it's nice to gain back that rainbow jersey. After the up and down season that I've had, to be able show I've still got form is quite nice. I always turn up on race day, but I really didn't expect to go as quick as I did. I surprised myself today!"
After qualifying in third in the C5 category, Sarah Storey finished the event in fourth position overall with a time of 38.012 seconds.
Debutante Daphne Schrager delivered a seventh-place ride and did not progress into the final. C5 riders Crystal Lane-Wright and Morgan Newberry also left the competition after qualifiers, but their rides will contribute to their overall omnium positions.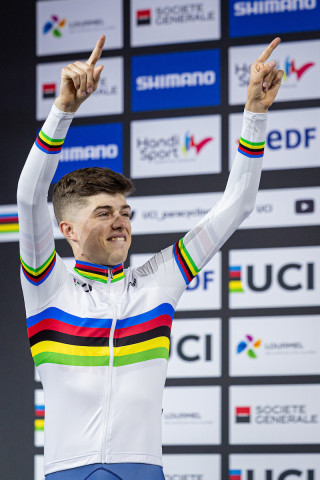 Men's C3 15km scratch race final
Fin Graham celebrated his first track world title in the men's C3 scratch race final, delivering a composed and tactical performance that saw him take home the rainbow jersey.
Graham took control and led from the front for the majority of the 60-lap race, calmly rebuffing challenges from his competitors to maintain a comfortable position within the lead group.
With five laps to go, it was anyone's guess as to who was going to be the one to make the move, and it was Dutchman Matthijs Drenth who went with just two laps to go. Graham was hot on his heels, and with 200m to go, took lead of the group, gaining ground as he headed to the finish line, roaring over it to become C3 scratch race world champion.


750m Tandem Team Sprint

Great Britain made their mark on their first even tandem team event, bringing home the rainbow jersey with ease.
The new pairings of James Ball piloted by Steffan Lloyd, and Libby Clegg piloted by Georgia Holt, put down an impressive qualifying time of 49.215 seconds – over three seconds ahead of the second qualifier, putting them comfortably through to the evening's final race.
Their final ride did not see them take it easy, as Clegg and Holt rode a seamless 500m, positioning Ball and Lloyd to bring it home and take the world title in a time of 48.901 seconds.


Men's C5 Individual Pursuit
Having started the day with a world record, Blaine Hunt took to the boards with confidence, delivering a time of 4:50.101. Teammate Will Bjergfelt finished in 10th place in 4:36.498, with neither rider progressing to the finals. These results will go towards Hunt and Bjergfelt's final omnium standings.


Omnium
Great Britain has seven riders competing in the four-event omnium; William Bjergfelt (C5), Fin Graham (C3), Blaine Hunt (C5), Crystal Lane-Wight (C5), Morgan Newberry (C5), Ryan Taylor (C2) and Katie Toft (C1).
The event will see riders compete in the flying 200m, individual pursuit (3 or 4km), time trial (500m or 1,000m) and scratch race from Thursday to Saturday – each of which will also be run as stand-alone events.
Racing started with the flying 200m qualifiers for all classifications, where Hunt delivered an impressive men's C5 para-cycling world record time of 10.381. With this, he beat the previous record of 10.679 seconds, set by the USA's Christopher Murphy at the 2020 UCI Para-Cycling Track World Championships, by almost three hundredths of a second.
Graham qualified fastest in the men's C3 event with a time of 11.368, as did Toft completing her C1 flying 200m effort in 15.606 seconds.
Toft currently stands in first place and will continue her onium with the C1 500m TT tomorrow. Taylor's competition will also continue tomorrow with the men's C2 1000m time trial - he currently sits in sixth place.
The C5 women's category competed in the 500m time trial later in the afternoon, putting Lane-Wright and Newberry in eighth and 11th place, respectively after the first two events.
Will Bjergfelt and Blaine Hunt finished the day in eighth and 12th place respectively ahead of the third event, the 15km scratch race, tomorrow.
After qualifying fastest in the flying 200m and winning the scratch race, Fin Graham currently leads the C3 omnium standings.