Neah Evans brought home Britain's third rainbow jersey, becoming the women's points race world champion in a frantic and hard-fought race.
An epic final day saw Great Britain's medal tally hit 10, with the addition of a silver medal in the men's Madison for Ethan Hayter and Ollie Wood, as well as a bronze for Ethan Vernon in the men's elimination race.
Great Britain finished fifth on the medal table, with three golds, two silvers and five bronze medals, in what has been an incredibly successful World Championships for the team.
Women's points race final
Neah Evans claimed her first world title in an action-packed points race which saw her deliver an incredibly physical ride, ultimately crowning her points race world champion.
Evans started confidently, winning the first sprint to take an initial five points. The next few sprints saw Evans, defending champion Belgium's Lotte Kopecky, and USA's Jennifer Valente tussle between the top three places on the leader board. A shock lap-take from Denmark's Julie Leith shook up the race and boosted her into the lead ahead of Evans. A chase group of six riders, including Evans, also managed to take a lap and restored Evans to her initial lead.
However, this wasn't for long as Leith took another lap and another 20 points with just eight laps to go, retaking the overall lead again and putting pressure on the front of the following group.
In a sensational show in the penultimate lap, the chaser group of Evans, Valente, and Kopecky fought back hard and managed to make it across the gap, putting Evans back into first position with just one lap to go. Giving it everything she had, Evans sprinted over the line to roars from the crowd as she earned her first world title.
After the race, Evans said: "It feels brilliant - it's not really sunk in yet, full of adrenaline and excitement from the race, but delighted.
"I felt I had good legs. I had a game plan and I was quite confident but the first lap went and I was chasing a bit and we kind of all got it and I was like 'right back in control, this is alright!' Then Julie went again and I was like 'oh dear'. I knew I had good legs at that point but it was really difficult because she'd got such a good gap quite early and it was difficult to judge and to get people to work with me rather than just drag them. A lot happening!
"They rang the bell and then we had one and I wasn't sure whether it was because we'd got the lap or what it was so I was like just keep going! It wasn't quite the magical moment that you sometimes dream of but yeah, it doesn't matter!"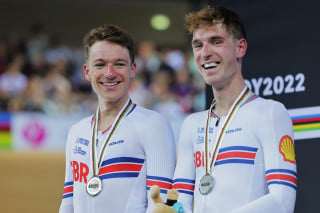 Men's Madison final
The British pair of Ethan Hayter and Ollie Wood secured a sensational silver medal in the men's Madison after a tight finish. After a steady start, the British pair won the second sprint for five points, putting them joint top of the leader board with the Netherlands.
Great Britain continued to ride well, conserving energy where possible but failed to bag any sprint points, seeing them steadily drop into fifth position, before Wood won five more points to put them back in the lead.
France's duo of Donovan Grondin and Benjamin Thomas started to take control of the race, winning the sprints and climbing the standings to take a seven point lead with 90 laps to go as Great Britain continued to rack up points to be in contention for a medal.
With around 50 laps to go, France went on an explosive attack, taking sprint after sprint to give them a 27 point lead. With less than 20 laps to go, Great Britain attempted to go solo for a lap, having moved down into ninth position. Hayter hit the back of the bunch to collect 20 points to go into joint second place with Italy, Belgium, and the Netherlands with under ten laps to go and only one sprint to finish. Great Britain rode superbly to catch Belgium who went off the front with two laps to go, with Hayter collecting maximum points in the final sprint to secure the silver ahead of Belgium.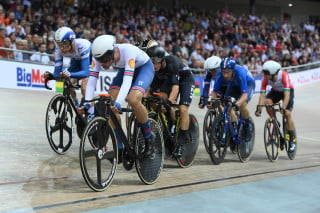 Men's elimination final
In a race littered with minor crashes, Ethan Vernon stayed composed and rode cleverly, holding back when needed before moving into strong, safe positions ahead of the elimination sprints. An impressive ride landed him a brilliant bronze medal and Great Britain's 10th of the World Championships.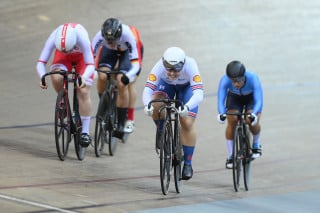 Women's keirin
Sophie Capewell rode well in the women's keirin, being pipped at the line to finish a well-stacked heat in third place. Coming back strong, she won the repechage with ease and continued into the semi-finals in the same way. However, the semi final was as far as Capewell would get today, crossing the line in fifth. In the minor final, Capewell finished the competition with a final standing of 12th.


Total number of medals won by Great Britain Cycling Team:
Bronze, Jess Roberts, women's scratch race
Bronze, Lauren Bell, Sophie Capewell, Emma Finucane, women's team sprint
Bronze, Jack Carlin, Ali Fielding, Hamish Turnbull, men's team sprint
Gold, Dan Bigham, Ethan Hayter, Ethan Vernon, Ollie Wood, men's team pursuit
Silver, Katie Archibald, Meg Barker, Neah Evans, Josie Knight, Anna Morris
Bronze, Josie Knight, women's individual pursuit
Gold, Ethan Hayter, men's omnium
Gold, Neah Evans, women's points race
Silver, Ethan Hayter, Ollie Wood, men's Madison
Bronze, Ethan Vernon, men's elimination race