The Great Britain Cycling Team got off to a flying start in the UCI Track Cycling World Championships 2022, taking home bronze medals in the women's scratch race, women's team sprint, and men's team sprint.
The men's and women's pursuit teams also got their competition off to a strong start with a second place qualifying time for the women, while the men qualified for tomorrow's gold medal race against Italy.
Women's scratch race
Jess Roberts claimed her first world championship medal with a brilliant bronze in the women's 10km scratch race. Roberts rode fantastically well, staying calm and in contention throughout the entire 40 lap race. With less than ten laps remaining, Eukene Larrarte of Spain put in an attack to string out the bunch, followed by another attack from France's Jade Labastugue to lead a ferocious pace.
Roberts led the bunch with five laps to go and stayed near the front to be in contention for any attack to come. Dutch rider Maike van der Duin made her move with two laps remaining, taking Martina Fidanza of Italy with her. As Fidanza took the lead to defend her world title, Roberts clung to van der Duin's wheel and put in a massive push of power to claim the bronze.
On taking home the bronze medal, Roberts said: "I'm honestly over the moon, I dreamed of getting a medal and I didn't know if it was possible, but anything can happen in a scratch race. I had my granddad on my shoulder – he passed away on Saturday so this was his race. To end my season like that brings so much confidence back in me, the last two years have been a bit rough and it's just so nice to be back on a podium and I'm loving riding my bike at the moment so I'm hoping to carry that on next year and just see where I go!"

Women's Team Sprint
World championship debutants Lauren Bell and Emma Finucane joined 2021 team sprint bronze medallist Sophie Capewell in the line up for the women's team sprint. They started off the evening qualifying with a time of 46.986 in third place behind German and the Netherlands.
They headed into the first round where they beat Poland, narrowly missing out on the gold medal race by just under seven hundredths of a second. The bronze medal race brought nail biting tension as the Netherlands started out in front, to be pulled back by Capewell on the second lap, followed by a storming effort by Finucane, who pipped the Netherlands on the line by eight thousandths of a second to take the second bronze medal of the night.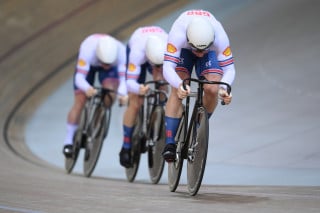 Men's Team Sprint
The men's team sprint of Jack Carlin, Ali Fielding, and Hamish Turnbull qualified in fourth place, to be pitted against Poland in the first round, which they won with a time of 42.747. This performance was enough to get them into the bronze medal race with last year's bronze medal winners, Germany. The final saw Great Britain lead on every split, putting in an impressive performance to take the third bronze medal of the evening.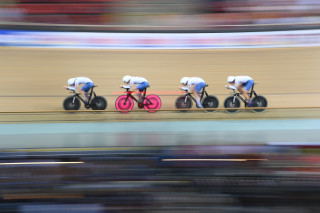 Men's Team Pursuit
The men's pursuit quartet of Ethan Hayter, Ethan Vernon, Dan Bigham and Ollie Wood put down an impressive qualifying time of 3:48.092, which put them up against New Zealand in round one later in the evening. Great Britain beat New Zealand by two hundredths of a second, which means they will fight it out for the gold medal tomorrow against Italy.
Women's Team Pursuit
Great Britain's team pursuit of Katie Archibald, Meg Barker, Neah Evans and Josie Knight qualified with a comfortable 4:13.117 in second place behind the Italians, who put down a time of 4:11.011. This means they will face host nation France in round one when the competition picks back up tomorrow.