British Cycling has today announced the 42 riders who will compete across the cross-country, downhill, and e-bike disciplines in the UCI Mountain Bike World Championships in Les Gets, France, from 23-28 August.
Included in the team will be Olympic champion Tom Pidcock and world champion Evie Richards in the cross country, and two-time downhill world champion Danny Hart.
Mountain bike cross-country
After adding a Commonwealth gold to her collection of world class medals at Cannock Chase earlier this month, Evie Richards will be looking to defend her title at the World Championships. Richards will be joined by Annie Last and Isla Short in the elite women's squad.
In the elite men's category, Olympic gold medallist and Tour de France stage winner Tom Pidcock will lead the squad, with hopes of adding another rainbow jersey to his growing collection and will be joined by teammate Cameron Orr.
The under-23 men's team will consist of current national champion Charlie Aldridge, Corran Carrick- Anderson, Cameron Mason, and Joe Blackmore, with Elena McGorum competing for the under-23 women's title.
The junior men's team will be formed of Max Greensill, Huw Buck Jones, Ben Askey and Bjorn Koerdt, and competing in the junior women's event will be Ella Maclean-Howell and Emily Carrick-Anderson.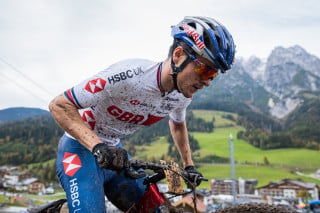 On attempting to defend her world title, Richards said:
"I just absolutely can't wait to be honest. Winning the World Championships in 2021 was such an incredible moment for me and since then, I've had a really tough year with injury and illness and haven't been feeling my best.
"The recent Commonwealth Games win was a real boost to my confidence. This is a great course and I'm ready to just get on my bike, enjoy the race and hopefully come away with the rainbow jersey."
Mountain bike downhill
In the downhill discipline, the seven-strong elite men's team will be led by Bernard Kerr and Laurie Greenland, who look to be very strong contenders off the back of their second-place finishes at the Snowshoe and Mont St Anne World Cups. The 2020 Junior Men's World Cup overall champion, Ethan Craik, will also return to action at the World Championships, along with Jamie Edmondson, Danny Hart, Charlie Hatton and Greg Williamson.
Tahnée Seagrave will look to make her return to world level racing at the event along with Louise Ferguson, Stacey Fisher, Mikayla Parton, and Katherine Sharp representing the elite women.
Riders competing in the junior men category on the Les Gets course will include the winner of the Fort William and Leogang World Cups, Jordan Williams. Also included in the team will be William Brodie, Toby Driscoll, Douglas Goodwill, Jack Piercy, Dom Platt, and Luca Thurlow. Having won three of the seven rounds in the junior women's category, Phoebe Gale will represent Great Britain alongside Aimi Kenyon and Bethany McCully in a bid for the rainbow stripes.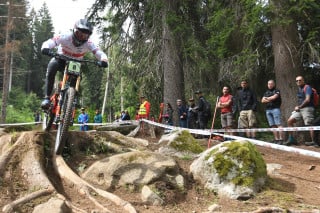 E-MTB
In its third year of competition, the riders competing in the elite men's E-MTB event will be Chris Hutchens and Robert Williams.
Great Britain Cycling Team Performance Director, Stephen Park CBE, said:
"We've made brilliant progress across the mountain bike disciplines over recent years, which means we are now blessed with incredible strength and depth, and some incredibly bright emerging talent.
"We've already seen some impressive rides within the team in 2022, including the Commonwealth Games and World Cups, and I'm confident that our riders will be in the mix for podium places once again in Les Gets.
"Defending the rainbow stripes, as Evie will be attempting to do, is never easy. She's had an incredibly challenging year but to come through that and take the Commonwealth title in the manner she did shows fantastic maturity and determination, and regardless of what happens this month she has done the jersey proud.
"Eyes will also be on Tom Pidcock, who represents a new form of rider who is keen to win in as many formats as he can. With a cyclo-cross world title already his, and a recent Tour de France stage win, he will have his sights set firmly on the rainbow jersey and is sure to deliver a show-stopping performance, whatever happens."
The UCI Mountain Bike World Championships will take place over six days, from 23-28 August, with riders competing in the mountain bike downhill on Thursday 25th and Saturday 27th, men's E-MTB cross-country on Friday 26th, cross-country short track on Tuesday 23rd and Friday 26th and cross-country on Sunday 28th.
Great Britain Cycling Team squad for the UCI Mountain Bike World Championships in Les Gets
Cross-country
Elite men:
Tom Pidcock
Cameron Orr
Elite women:
Evie Richards
Annie Last
Isla Short
Under-23 men:
Rory McGuire
Charlie Aldridge
Corran Carrick-Anderson
Cameron Mason
Joe Blackmore
Under-23 women:
Elena McGorum

Junior men:
Max Greensill
Huw Buck Jones
Ben Askey
Bjorn Koerdt
Junior women:
Ella Maclean-Howell
Emily Carrick-Anderson
Downhill
Elite men:
Ethan Craik
Laurie Greenland
Danny Hart
Charlie Hatton
Bernard Kerr
Jamie Edmondson
Greg Williamson
Elite women:
Louise Ferguson
Stacey Fisher
Mikayla Parton
Tahnée Seagrave
Katherine Sharp
Junior men:
William Brodie
Toby Driscoll
Douglas Goodwill
Jack Piercy
Dom Platt
Luca Thurlow
Jordan Williams
Junior women:
Phoebe Gale
Aimi Kenyon
Bethany McCully
E-MTB
Elite men:
Chris Hutchens
Robert Williams
Cam Mason

Unfortunately Harriet Harnden has had to withdraw due to injury and will not be competing in this weekend's competition.