Pfeiffer Georgi and Ollie Wood finished seventh and eighth respectively in the omnium on the penultimate day of track cycling at the European Championships in Munich.
The women's omnium began with a cagey scratch race, in which Georgi finished in 10th place after narrowly avoiding a crash in the penultimate lap. Three sprint points then helped her to a sixth place finish in the tempo race, and Saturday's elimination race silver medallist showed her prowess in the format once again in race three, finishing in third to move up to sixth place with just the final points race to go.
Starting the points race 18 points behind third placed Rachele Barbieri of Italy, Georgi burst into life in the second half of the race, taking a lap and maximum points on the sixth of 10 sprints – however points scored by those around her saw the gap between her and the podium places extend further.
The race was then halted for 45 minutes, as medics attended to Ukraine's Ganna Solovei and Greece's Argiro Milaki, who both left the track on stretchers. Everybody at British Cycling sends their best wishes to both riders.
A last-ditch effort to take a second lap earned Georgi maximum points on the ninth sprint, and six more on the 10th and final sprint of the race, however her group was unable to make up enough ground in the laps remaining – earning her a hard-fought seventh place.
Afterwards, she said:
"Today was pretty hard actually. It's my first omnium at this level, and I didn't have the best start in the scratch race, but I think I used my road endurance to keep progressing throughout the events, and I was feeling better towards the end of the points race.
"My plan for the points race was to sit back for the first 50 laps, and then try to take a lap or two, because that's what I needed to get to the podium. I was going to go all in, so I got one lap, and then we had the stop, which is a bit unfortunate. But when it's a crash you just hope that the riders are okay first of all.
"It's pretty hard when you see a crash like that and have a lengthy stop. It's never nice to see, and as a rider you just hope they're okay first of all and then just try to re-focus, get back on there and keep your head.
"I'm looking forward to the Madison. I'm riding with Neah, I think it's one of my favourite events, and it's going to be fun on this track I think."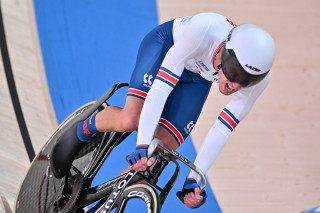 In the men's omnium Ollie Wood finished in ninth place in the opening scratch race, as a group of five riders broke away to gain a lap on the field. A stronger performance in the tempo race, in which he gained a lap, saw him finish sixth – placing him in seventh place at the half-way mark.
In the elimination race Wood survived an early scare when judges were unable to call whether he or Philip Heijnen of the Netherlands had crossed the line first. However, Wood got stronger as the race progressed, positioning himself well at the front of the bunch to stay out of trouble, and finished second behind the eventual overall winner Donavan Grondin of France.
That meant Wood started the final points race in sixth place, and just eight points off the podium places. However Wood – who admitted to feeling unwell through the course of the day – was unable to add any further points to his total, but battled through to an eighth place finish overall.
After picking up a men's team pursuit bronze on Friday, Kian Emadi was back in action in the men's kilo, and despite a strong ride to finish 12th in qualifying, he didn't progress to the evening's final.
The track programme concludes tomorrow with the men's and women's keirins, and men's and women's Madisons.
For full results and schedule, click here.