The home nations enjoyed a blistering start to the Commonwealth Games today, with one gold, four silver and three bronze medals on the track at London's Lee Valley VeloPark. Neil Fachie was the sole champion, powering to his fifth Commonwealth title piloted by Lewis Stewart in a thrilling tandem kilo competition.
Men's tandem B kilo
Team Scotland's Neil Fachie (piloted by Lewis Stewart) secured the first cycling medal of the Games with a phenomenal ride in the men's tandem B kilo. Fachie clocked 59.938 in the final ride of the competition to lift the roof off the Lee Valley VeloPark, edging out Team Wales' James Ball (piloted by Matt Rotherham) by just over a tenth of a second.
Steve Bate (piloted by Chris Latham) took bronze for Team England, with Alex Pope (piloted by Steffan Lloyd) fifth for Team Wales.
Speaking afterwards, Fachie said:
"This is pretty special. It's genuinely mind blowing. Eight years ago in Glasgow – I didn't think I'd still be here. I've been ill all week so the preparation hasn't been great – you can hear it from my voice – but I still had the legs. It's thanks to this man on the front of the bike.

"Coming into that final lap you know it's do or die. You can hear the crowd and I gave it everything I had. It really, really hurt, but it's so worth it when you get to stand on the top of that podium."
Women's tandem B sprint
Four teams contested an equally-exhilarating women's tandem B sprint competition, with Aileen McGlynn (piloted by Ellie Stone) qualifying second fastest behind the Australian pair of Jessica Gallagher and Caitlin Ward. Sophie Unwin (piloted by Georgia Holt) qualified third fastest, with Libby Clegg (piloted by Jenny Holl) in fourth.
In the semi-finals Gallagher triumphed over Clegg in straight legs, however a dramatic battle between McGlynn and Unwin went to a decider, in which Unwin was first to cross the line but later relegated, setting up a gold medal final between McGlynn and Gallagher.
In the final Gallagher again showed her class to take gold, with McGlynn and Stone taking home silver.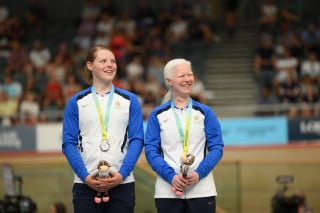 Women's team pursuit
Just five teams contested the women's team pursuit competition, with Team England (Josie Knight, Laura Kenny, Maddie Leech and Sophie Lewis) and Team Wales (Anna Morris, Jess Roberts, Ella Barnwell and Megan Barker) qualifying third and fourth respectively to set up an evening bronze medal final.
In a hotly-contested final Team England had just enough to overturn an early Welsh advantage to take the medal in 4:17.096.
Men's team pursuit
Team England (Dan Bigham, Ethan Vernon, Ollie Wood and Charlie Tanfield) were the fastest home nations qualifiers in the men's team pursuit, with their time of 3:50.796 taking them into the gold medal final against New Zealand as the second fastest qualifiers.
Teal Wales (Rhys Britton, Joe Holt, Will Roberts and junior rider Josh Tarling) put in an impressive performance to qualify fourth fastest with 3:54.613, setting up a bronze medal ride-off with the Australians.
Both home nations were beaten in their respective medal races, with England taking home a silver medal and Wales finishing the event in fourth place.
Women's team sprint
After a string of impressive results in 2022, Team Wales (Lowri Thomas, Rhian Edmunds and Emma Finucane) qualified third fastest in the women's team sprint in a time of 48.095, setting up a bronze medal final against Australia. They followed that up with another strong performance and delivered a time of 47.767, beating the Australian trio by three hundredths of a second and taking home a bronze medal.
Team England (Milly Tanner, Sophie Capewell and Blaine Ridge-Davis) finished fifth, one place ahead of Team Scotland (Iona Moir, Lauren Bell and Lusia Steele) in sixth.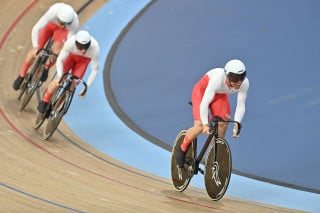 Men's team sprint
Team England were the only home nations representatives in the men's team sprint, and the trio of Ryan Owens, Hamish Turnbull and Joe Truman put on a show in front of the raucous home crowd.
After qualifying in second with a time of 43.296, an evening gold medal final against Australia awaited, and while they put in a strong performance to clock 43.372, it just wasn't quite enough to beat Australia, and they closed a medal-packed first day with a final silver for Team England.
The track cycling continues tomorrow, with medals up for grabs in the women's sprint, women's individual pursuit, men's individual pursuit, and men's keirin. Catch all the action live on the BBC, and follow British Cycling on Facebook, Instagram and Twitter for updates throughout the Games.