Olympic silver medallist Kye Whyte took a brilliant bronze medal in the first round of the UCI BMX Racing World in front of a raucous home crowd in Glasgow.
With qualifying points for the 2024 Olympic Games in Paris up for grabs, Whyte was impressive throughout the rounds and despite a tricky start in the final he battled back to take the final spot on the podium. World and Olympic champion Bethany Shriever put in strong performances throughout the day before finishing eighth in the final.
How it happened
Whyte, who claimed silver in the European Championships on this track four years ago, qualified first in the opening heat with a blistering time – as did teammate Quillan Isidore, while Paddy Sharrock and Ross Cullen qualified second in their respective races.
Shriever stormed her first heat, finishing well ahead of the field and recorded the second fastest lap of the round, just behind Smulders.
Whyte and Sharrock then eased through their 1/8 round with a British 1-2, while Isidore came third in his heat and Cullen took fourth to qualify. In the 1/4 finals Whyte and Sharrock enjoyed another 1-2, and while Cullen took the final qualifying spot in his heat Isidore was unfortunate to crash out.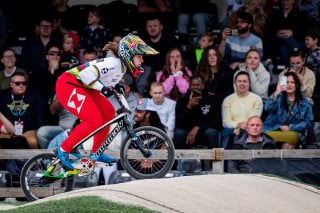 With the top four riders from each semi-final progressing into the final Shriever and Whyte continued their fine form to each take second place, while Cullen narrowly missed out in fifth. In front of an expectant home crowd Whyte battled brilliantly in the final to secure the third spot on the podium, while Shriever took eighth after a difficult start.
"I'm happy with it. I've had a long rest after the Olympics, probably about two months' of training and we're into this race so the podium is good. I did want to win in front of a home crowd but we've still got tomorrow.
"On the gate for me, I felt like I was too ready in that final, I was too ready to race, and I hit the gate and I fought my way back to third, which is better than I expected to be honest. I think tomorrow is going to be the better day.
"The home crowd is brilliant – it's always good to have a home crowd, especially on a home circuit. They pump you up, they give you energy and hopefully I will do something good for them tomorrow."
In the under-23 competition it wasn't to be for the Great Britain Cycling Team's Ryan Martin, who unfortunately crashed out in the last chance round, while Matthew Gilston went out in the quarters. Siblings Emily Hutt and Matthew Hutt both exited in the under-23 semi-finals after performing well throughout the day.
Colombian Diego Alejandro Arboleda Ospina took the overall men's win while France's Sylvian Andre claimed second, while Dutch rider Laura Smulders took gold ahead of Switzerland's Zoe Claessens her Dutch teammate Judy Baauw in the women's final.
Tomorrow will see the Great Britain Cycling Team take to the track once again, with a sold out crowd ready to cheer on the home riders in Round 2 of the UCI BMX Racing World Cup. Live coverage will once again be available from 14:45 on the Olympic Channel, and full results from today's action can be found here.