Think you've got what it takes to be an Olympic track sprinter? Were you born in 2007 or 2008? Then we have an opportunity for you!
British Cycling is looking for the next crop of talented track sprinters to take to the boards and continue our proud track record of international success at the Olympic Games, following in the footsteps of Sir Jason Kenny, Jack Carlin and Becky James. If you enjoy sports that are fast and tactical and are currently under 16, why not try your hand at track sprinting?
Our new and exciting Talent ID initiative will be launching this summer in a bid to identify the sprinting potential of talented young athletes from across England, with those successful going on to join British Cycling's Talent Development Programmes.
If you believe you have what it takes, the first step is to sign up on the form here before Friday 3 June, and you may be in with a chance of being invited to one of our three special testing days at velodromes across the country throughout June and July:
London – Saturday 18 June 2022
Manchester – Saturday 2 July 2022
Derby – Sunday 3 July 2022
You must be born in either 2007 or 2008 to apply and be eligible for a British passport, but no prior racing experience is required – just the ability to ride a bike!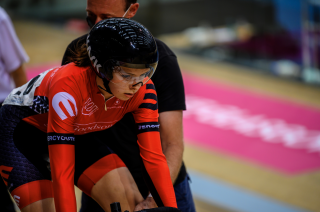 British Cycling's Head of Talent Development, Joe Malik, said:
"In conjunction with the launch of the British Cycling Discipline Plans in 2021 we deployed our new track sprint pathway, which aims to identify, develop, and progress riders onto Great Britain Cycling Team programmes.
"This new initiative will encourage existing riders within the sport to try a new discipline alongside their existing discipline, while also encouraging young people from other sports and groups to come along and try track sprint cycling for the first time.
"This initiative is just one of a number of really exciting projects ready to launch in 2022 which will further enhance our offering, and once again highlight our commitment to ensuring that the talent pathway is more accessible, rider-centred and inclusive than ever before."
Applications close at 11:59pm on Friday 3 June 2022.
For more information on the British Cycling Talent Development Programme, click here.