A majestic all-round performance saw Ethan Hayter crowned omnium world champion for the first time on day four of the 2021 UCI Track Cycling World Championships in Roubaix, making it an omnium double for the Great Britain Cycling Team following Katie Archibald's victory yesterday. On another fruitful day for the Great Britain Cycling Team, Archibald and Neah Evans battled to bronze in the women's Madison.
His victory was the first by a British rider in the men's omnium since Ed Clancy's victory in Denmark in 2010, and adds a second medal of the week to his tally ahead of tomorrow's Madison.
Following Archibald's perfect display on day three of the championships, Hayter also opened his omnium with a perfectly controlled victory in the scratch race. Following a crash in the latter stages Hayter, Donavan Grondin (France), Elia Viviani (Italy) and Iuri Leitao (Portugal) found themselves well clear of the bunch, and he prevailed over the newly-crowned scratch race world champion Grondin in the sprint.
More success followed in the tempo race, in which Hayter took eight of the 36 available lap points and gained a lap on the field to secure victory with 28 points, ahead of Leitao on 24 and Aaron Gate (New Zealand) in third. The victory meant Hayter took an eight-point lead over Leitao into the evening session's elimination and points races.
It was Hayter and Leitao who took the initiative in the elimination race, riding strongly on the front as the field diminished around them. In a 21-rider field, Leitao was the first of the contenders to be caught out and was eliminated 14th, with fourth place overall Erik Martorell Haga (Spain) following him as the 16th rider to go.
With just four riders remaining Hayter was unable to find a way past Gate, Grondin or Matias Malmberg (Denmark), and it was his nearest rival in the overall standings Gate who took the victory, leaving just six points separating the pair heading into the decisive points race.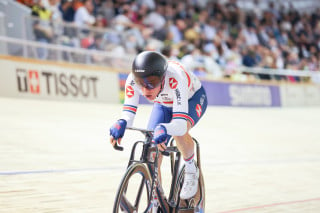 However Hayter once more dominated, taking maximum points from four of the first five sprints, with a subsequent lap gain on the field all but sealing the rainbow jersey. A second lap soon followed and saw Hayter cross the line with a resounding 54-point winning margin, securing a second medal of the week following Thursday's bronze in the team pursuit.
Afterwards, he said:
"The way that last race went, it was quite tight at the start, but I knew if I scored well in the first few sprints and had a little gap it would make life a lot easier for me, and I pretty much just rolled off. The race was going really hard and people were tired, but I just kept the pressure on and once I was off I committed and took the lap and then ended up taking another, so yeah, amazing."
Looking ahead to tomorrow's Madison, he added:
"I'll feel it tonight, but I kind of felt better throughout the day to be honest, so I'm feeling good for tomorrow."
Fresh from her golden omnium Archibald teamed up with Neah Evans in the women's Madison, and the pair started brightly, joining the Netherlands and France on 10 points with a third of the race gone.
In what proved to be a low-scoring Madison Germany, Australia and Poland all tried and failed to gain a lap, paving the way for a nip-and-tuck battle between the three leaders. With the Dutch pair of Kirsten Wild and Amy Pieters holding a slender lead, Archibald delivered a trademark surge to take three points on the 10th sprint, taking them within a point of France in silver and seven behind the Netherlands.
As the pace stepped up a gear in the final stages Archibald and Evans were unable to outpace the leaders, and their grip on bronze looked to be slipping as the Italian pair of Letizia Paternoster and Rachele Barbieri took the full 15 points in the final two sprints. However, a fourth-place finish on the final sprint was enough to secure a second bronze of the championships for Evans and a third medal for Archibald.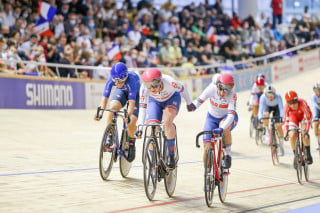 Speaking after the race, Evans said:
"Obviously we're absolutely delighted, a worlds bronze medal is very special. It was a really hard race from the gun, really good race, obviously we're slightly disappointed. It's not going to be a surprise that we're slightly competitive, but I think there's a lot to be proud of today and some points we're looking to improve on, and I think the future is going to be really bright for us."
Commenting on Wild's fairy-tale ending, Archibald added:
"Kirsten's been an idol of mine since I've been turning up to track races watching her. I've seen her rivalry with Laura through the years, and to experience that rivalry myself has been a real honour, so to watch this has been a total treat. She's such a classy rider and someone I've always respected."
In the men's sprint Joe Truman and debutant Hamish Turnbull qualified 15th and 17th respectively with their flying laps, and progressed confidently through the 1/16 finals. Unfortunately the pair found themselves drawn against formidable opposition in the 1/8 finals, with Turnbull defeated by world champion Harrie Lavreysen of the Netherlands and Truman beaten by second fastest qualifier Nicholas Paul of Trinidad and Tobago.
In the women's individual pursuit, elite world championships debutants Megan Barker (9th) and Ella Barnwell (10th) performed strongly to secure top 10 finishes, capping off an excellent week for Barker following her bronze medal in the team pursuit on Thursday.
The championships concludes tomorrow with the final medals on offer in the women's points race, men's sprint, men's Madison, women's keirin and men's elimination race.