Charlotte Worthington once more highlighted her Tokyo medal credentials with a bronze medal in freestyle park at the 2021 UCI Urban World Championships in Montpellier, France.
A sensational performance from Worthington – which saw her become the first woman to ever land a front flip in competition – secured third place behind Hannah Roberts (USA) and Nikita Ducarroz (SUI). The result matched the Great Britain Cycling Team rider's career-best performance from the 2019 championships in Chengdu, China.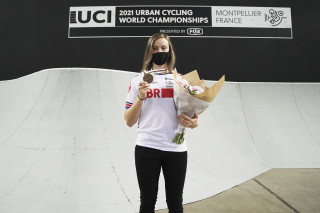 Ben Wallace and Declan Brooks represented Great Britain in the men's final, with Wallace's score of 82.40 from his second run enough for an 8th place finish. Wallace had been on course for a higher score in his first run, starting brilliantly before a mistake at the half-way point left him with a score of 76.8.
Brooks had an excellent start on his first run, but sadly crashed out on a double backflip in the latter stages. He regained consciousness in the arena and was taken immediately for tests, and is now recovering in hospital.
Logan Martin (Aus) was the overall winner with an incredible 94.70, ahead of Daniel Sandoval (USA) in second and Marin Rantes (CRO) in third.
You can find the full results here.