British Cycling has today confirmed the 16 riders who will represent Great Britain at the UEC European Cyclo-cross Championships, taking place from 7th-8th November in 's-Hertogenbosch, Netherlands.
Anna Kay, silver medallist in last year's under-23 women's event, will represent Great Britain, as will the reigning national champion Hattie Harnden, who finished nineth in the recent UCI Mountain Bike World Championships. Making her debut in the under-23 category at this level is Josie Nelson, with Abbie Manley, Amy Perryman and Sophie Thackray also set to line-up for Great Britain in the under-23 women's race.
In the elite women's race, Ffion James and Amira Mellor will represent the Great Britain Cycling Team.
The under-23 men's race will see representation by eight British riders, including British Cycling's Senior Academy rider Oli Stockwell who is a new rider to the programme with a main focus on cyclo-cross. Thomas Mein who won the Tabor round of the world cup series last season will also compete in the under-23 men's race as will Lewis Askey who returns to cyclo-cross having enjoyed a debut season on the road with Groupama-FDJ. Brothers Dan and Toby Barnes plus Tom Couzens, Rory McGuire and Cameron Mason complete the Great Britain Cycling Team's line-up for this category.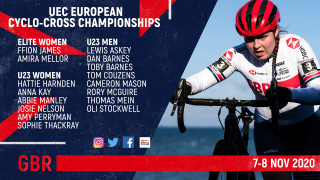 Performance Director Stephen Park said: "The team we are taking to represent Great Britain at the UEC European Cyclo-cross Championships this year is exciting to say the least.
"As well as the 'pure' cyclo-cross riders on the squad, it's great to see riders from road and mountain bike turn their focus to this discipline, whether that's to further their development in line with their Olympic ambition, or whether it's because they want to excel in cyclo-cross in its own right.
"There is a depth of talent throughout the squad and I'm looking forward to watching all of the races, but I'm particularly keen to see how Senior Academy rider Oli Stockwell gets on this season. Oli is the first rider we've had on the Academy who has a specific cyclo-cross focus. He's been working closely with coach Matt Brammeier and I think this is a good step for our academy programme so I'm interested to see how it transpires.
"As it always is, the health and welfare of our team is our priority, and Dr Nigel Jones, Head of Medical Services, has been in regular contact with the event organiser for these European Championships and is confident the COVID-19 measures they have put in place will mitigate risk to our riders. The riders and support staff all travel under the government guidance for elite sport during the lockdown period, and everyone who is scheduled to travel has chosen to opt-in to do so.
"It's disappointing the junior categories have been cancelled, we had 12 junior riders excited and ready to race, but the event organisers have made the correct decision in line with their Government guidance. For all the other age categories, we can look forward to what I'm sure will be a successful event."
Elite Women
Ffion James
Amira Mellor
U23 Men
Lewis Askey
Dan Barnes
Toby Barnes
Tom Couzens
Cameron Mason
Rory McGuire
Thomas Mein
Oli Stockwell
U23 Women
Hattie Harnden
Anna Kay
Abbie Manley
Josie Nelson
Amy Perryman
Sophie Thackray