The 'hot on each other's heels' environment within the Great Britain Cycling Team male sprint group will push performances on between now and the Tokyo Olympic Games, says Jack Carlin.
Carlin – a double world silver medallist – is one of five riders vying for a place in the Olympic squad, with the group boasting the experience of multiple Olympic champions Jason Kenny and Philip Hindes, and the promise of Carlin, Ryan Owens and Joe Truman, all of whom have won medals on the international stage despite being just 22, 23 and 22 respectively.
As the squad gets ready to embark on the final full track season before Tokyo – which includes a Tissot UCI Track World Cup in Glasgow - Carlin says that they are in a positive place.
"We've had a really good training season over this summer, and everyone has come out strong from that, so there are exciting things to come," the Scot says.
"Everyone still has the same goal in mind, but now obviously Tokyo is getting closer and closer, so performances are going to be more scrutinised and results are going to have to be shown, even in the process of us qualifying enough points to compete at the Olympics.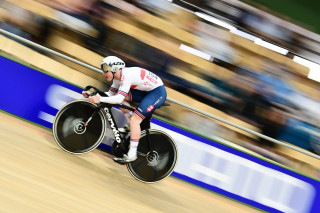 "Everyone is just hot on each other's heels, hoping they can push each other on and push themselves on to make selection and make the team. So there will be pressure in the coming months, but it should be a good pressure."
A trip to Japan has formed part of the sprint group's preparation over the summer 'off-season', where racing and familiarisation with the culture were both on the agenda.
Carlin was pleased with the results on both counts: "It was really good and really positive.
"I went there with very little speed in the legs and managed to get a few half decent results. I wasn't the only one – the sprint squad as a whole has started to step up, which is good to see.
"It was an enjoyable trip. The people are brilliant, and the food is more than good enough – as long as you like sushi, you're absolutely fine!"
Great Britain's track team start their final push towards Tokyo with next week's UEC European Championships and this winter's Tissot UCI Track World Cup series, the second round of which – between November 8 and 10 – takes place in Glasgow. More information is available here, while tickets can be purchased from here.