Alfie George was the highest-place British finisher as the USA's Quinn Simmons took victory in the junior men's road race at the UCI Road World Championships in Yorkshire today.
In a race which was aggressive from the outset, the Great Britain quintet of George, Max Walker, Lewis Askey, Leo Hayter and Sam Watson more than played their part in driving forward a ferocious pace in what were tricky, wet conditions.
Throughout the early and middle stages, it was the British team that were the aggressors with repeated attacks off the front from Hayter, Walker and Askey. Max Walker was notably off the front for a considerable time during the first half of the 148km race as the British riders looked to make home advantage count.
However, the USA team maintained a level of control, with Simmons' team-mate and eventual bronze medallist Magnus Sheffield putting in an heroic shift. The two Americans were part of a five-man break which also included Britain's Askey, and it was from here that Simmons made the race's decisive move with 33km left.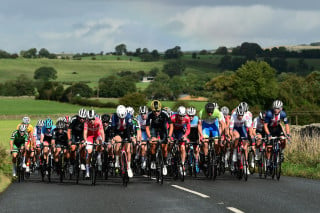 He launched a solo attack off the front that Askey and the rest of the group was unable to live with, before building a substantial lead as he entered Harrogate for the first of three laps of the finishing circuit.
Despite the best efforts of Italy's silver medallist Alessio Martinelli, Simmons was able to enjoy the final kilometres of his ride, taking an American flag as he triumphantly cross the line.
Behind him and Martinelli, Sheffield won the four-man sprint for bronze, while George was the first to finish from the bunch behind, in seventh.
Hayter (15th), Askey (22nd), Watson (28th) and Walker (30th) all recorded fine finishes in what was a grueling contest.
Alfie George said: "The conditions were epic, the course was absolutely crazy it was up down, up down. It was an absolute battle of attrition."
"It feels amazing [to finish 7th], obviously as a team it's not what we came for... but top ten in the world feels good."
The road races continue tomorrow, with the junior women's and under-23 men's races both taking place.