Elynor Backstedt added to Great Britain's medal tally by picking up her second junior women's time trial bronze in successive years on a dramatic day 2 of the UCI Road World Championships in Yorkshire.
Backstedt – the final rider down the start ramp - did superbly well to stay upright after an early wobble, and was well in contention after going second fastest through the intermediate split.
Despite losing time over the second half of the 14km course, she stopped the clock 22:27.16, securing her third-place finish.
The gold medal and world title went to Russia's Aigul Gareeva who, despite a late error, clocked 22:16.23 – a winning margin of 3.61 seconds over Dutch rider Shirin van Anrooij.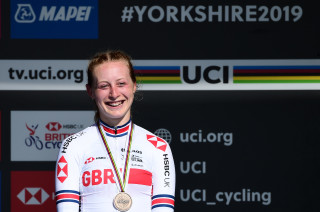 Afterwards, Backstedt said:
"I wasn't really expecting this. Obviously I wanted to win, like everyone does, but on a course like this you never really know what can happen. It's quite slippery out there and I nearly didn't make it round, but I'm absolutely over the moon.
"The corner was wet and had leaves all over it – I just braked a little bit too late and that caused the back wheel to skid, but luckily I held it up!"
Backstedt's Great Britain team-mate Amelia Sharpe finished in 26th place, after stopping the clock at 23:51.80.
France's Lea Curinier (23:31.21) and the USA's Megan Jastrab (23:00.68) each spent some time in the hot seat early on, before Italy's Sofia Collinelli was the first rider to dip below 23 minutes, stopping the clock in 22:51.61.
Leonie Bos of the Netherlands then took over the leader's mantle, clocking 22:37.50, before Sweden's Wilma Olausson recorded a new fastest time of 22:33.19. van Anrooij then moved into the lead, only for Gareeva to secure her world title in dramatic circumstances after she lost time by turning the wrong way down a deviation.
In the men's event – over double the distance - Great Britain's Oscar Nilsson-Julien and Leo Hayter both recorded top-ten finishes.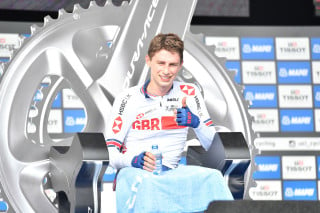 Hayter said post-race:
"It was hard. It was the longest time-trial I've ever done. I think I might have over-cooked it a little bit in the first lap and I just suffered for all of the second lap.
"I didn't really notice it the first time I came through [the noise of the crowd], but the second time up the hill, I couldn't hear anything. I couldn't even hear myself breathing, I just had my head down and put myself into the ground.
"I guess I don't know what type of rider I am yet, but as I get older and go through as an under-23, I guess I'll form as more of into a category that I can put focus on."
Hayter (39:19.29) was eighth and Nilsson-Julien (39:28.36) ninth, as the title was won by a sensational effort from Italy's Antonio Tiberi.
Nilsson-Julien was provisional fastest when he crossed the line, however that lead was short-lived as the Netherlands' Enzo Leijnse beat his time. The next rider into the hot seat was Tiberi, whose impressive time of 38:28.25 masked the dramatic start to his ride.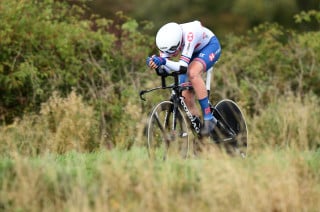 The Italian was barely off the start ramp when he suffered a mechanical and was forced to change his bike. After retaining his composure, Tiberi attacked the course on his replacement bike, and despite finding himself 25 seconds down on the leader at the halfway point, some wonderful, aggressive riding on the second half of the course saw him record the fastest time.
He endured a long wait on the hot seat, watching rider after rider fall short of his time, but was able to celebrate when team-mate and final rider Andrea Piccolo crossed the line well outside of his 38:28.25. Leijnse and Germany's Marco Brenner won silver and bronze respectively.
Backstedt's bronze is Great Britain's second of the championships, after the mixed team time trial relay team of Dan Bigham, John Archibald, Harry Tanfield, Anna Henderson, Lauren Dolan and Joss Lowden also claimed third in their event yesterday.