Dame Sarah Storey, Ben Watson, Will Bjergfelt, Karen Darke, David Stone and Steve Bate and Adam Duggleby were among the winners as Yorkshire 2019 got under way with the UCI Para-cycling International on Saturday.
Preceding the UCI Road World Championships, which begin tomorrow, today's racing saw riders from every Paralympic road classification do battle on Yorkshire's roads, in front of crowds which will have whetted the appetite for the eight days of competition to follow.
The races started in three different locations – Beverley, Tadcaster and Wetherby - before all finishing in Harrogate, with tandem duo Bate and Duggleby the first riders to take the acclaim of the crowds.
After their win, Yorkshire-born Duggleby said of the atmosphere:
"It was crazy – every single town you went through, you had people screaming your name. There were people waving all along the route that I recognised – it was really good."
Bate added:
"It was unbelievable. The crowds were just outrageous – you'd come into a town and see people, but all through the town centres were just lined with people. It's just so incredible to have that support; it makes a massive difference."
Storey, competing in rainbow stripes following her WC5 road race victory at the UCI Para-cycling Road World Championships in Emmen last week was also roared home by the huge Harrogate crowds, and paid tribute to the event after crossing the line.
She said: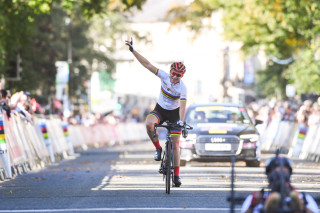 "Today was the biggest crowd that the para-cycling peloton has had since London 2012 – even the crowds in Rio weren't as big as this. It just goes to show that, if you put on such a fantastic event, with cycling at its heart, people will come out and see what it's all about."
Bjergfelt put his two world championship fourth places behind him by producing a fine solo performance to win the men's C4-5 contest, in which Britain's Alex Jones and Jon Gildea were second and third respectively, while Stone led home Hans-Peter Durst by five seconds in the MT1-2 race.
Ben Watson beat compatriot Jaco van Gass to the men's C1-3 title, Darke took victory in the WH1-4 category, and Britons James Puttrell (MH2) and Alex Brooke-Turner (MH4) were also among the winners.
Lora Fachie and Corrine Hall took silver behind the Irish pairing Katie- George Dunlevy and Eve McCrystal in the women's tandem race, while Matthew Robertson was the first C2 over the line in the MC1-3 race.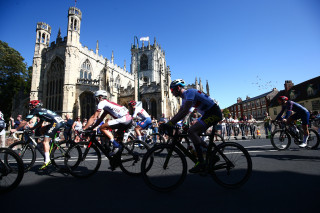 Full podium results:
MB:
1. Steve Bate and Adam Duggleby (GBR)
2. Damien Vereker and Paul Forristal (IRE)
3. Rick Veldkamp and Rick Flens (NED)
WB:
1. Katie-George Dunlevy and Eve McCrystal (IRE)
2. Lora Fachie and Corrine Hall (GBR)
3. Louise Jannering and Jenny Eliasson (SWE)
WC1-3:
1. Anna Beck (SWE)
2. Aniek van den Aarssen (NED)
3. Amelia Cass (GBR)
WC4-5:
1. Dame Sarah Storey (GBR)
2. Hannah MacDougall (AUS)
3. Morgan Newberry (GBR)
MC1-3:
1. Ben Watson (GBR)
2. Jaco van Gass (GBR)
3. Aleksei Obydennov (RUS)
MC4-5:
1. Will Bjergfelt (GBR)
2. Alex Jones (GBR)
3. Jon Gildea (GBR)
MT1-2:
1. David Stone (GBR)
2. Hans-Peter Durst (GER)
3. Rickard Nilsson (SWE)
WT1-2:
1. Carol Cooke (AUS)
2. Hannah Dines (GBR)
WH1-4:
1. Karen Darke (GBR)
2. Melissa Nicholls (GBR)
3. Melanie Helweg (NED)
WH5:
1. Chantal Haenan (NED)
MH2:
1. James Puttrell (GBR)
MH3:
1. Declan Slevin (IRE)
2. Steffan Seifart (GER)
3. Luke Jones (GBR)
MH4:
1. Alex Brooke-Turner (GBR)
2. Mark Allen (GBR)
3. Chiel Albers (NED)
MH5
1. Stuart Tripp (AUS)
2. Mitch Valize (NED)
3. Athanasios Syrmas (GRE)