Craig Collis-McCann was the highest-finishing Briton on day four of the UCI Para-cycling Road World Championships, claiming fourth in the MT2 road race as Great Britain ended the championships with eight medals.
Collis-McCann avoided the crash which ended team-mate David Stone's hopes of a medal, and won the battle for fourth as he crossed the line just over a minute after the leading trio, which included winner Ryan Boyle of the USA.
Elsewhere, Karen Darke registered a 7th-place finish in the WH3 race, while Hannah Dines battled to 5th in the WT2 contest despite struggling with the technicality of the course.
Collis-McCann's fourth place was one of seven that Britain recorded across the four days of competition, and the Great Britain Cycling Team's Head of Para-cycling, Jon Pett, is determined that those near misses can turn into positives for the team.
He said:
"While the fourth places that we've had this week have been disappointing, they are something we need to learn from and build upon as we move forward. All the performances we've put in have been good, but sometimes in road racing you fall foul of a crash, or the course not quite suiting your skillset. But we have plenty to take away from this as we look ahead to Tokyo."
Earlier in the week, Dame Sarah Storey claimed WC5 gold in both the time trial and road race, Katie Toft won two silvers in the WC1 category and there were medals for Lora Fachie and Corrine Hall (WB time trial – bronze), Steve Bate and Adam Duggleby (MB time trial – silver) Ben Watson (MC3 time trial – bronze) and Jaco van Gass (MC3 road race – silver).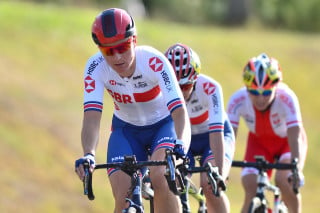 Of the medallists, Pett added:
"Sarah, as usual, has come here and delivered everything we know she's capable of. We've had medals across the board from a number of different riders, and it's really exciting to see the progress for some of them, all of which shows some learning and some growth.
"Both Ben and Jaco have medalled – one in the time trial and one in the road race – and demonstrated how they can work together in the road race as well, which is really encouraging, particularly ahead of events next year. But we also shouldn't forget we've got another C3 back in the UK (Fin Graham) who's performed really well this year, so it's definitely a classification that we're really building some strength in."
In the closing stages of the WC5 road race, Crystal Lane-Wright crashed as she looked to rival team-mate Storey in the finishing straight.
Of her condition, Pett said:
"It wasn't great to see Crystal crash, particularly because she was looking really strong in the race. Thankfully she's out of hospital and she's with our medical team out here – they're keeping an eye on her and monitoring her, but all looks ok."