Dame Sarah Storey added to her collection of world titles while Jaco van Gass won a debut road world championship medal on a dramatic day three at the UCI Para-cycling Road World Championships in Emmen, the Netherlands.
After her victory in Thursday's time trial, Storey completed the seventh double of her astonishing career by winning the nine-lap road race, as team-mate Crystal Lane-Wright crashed on the final corner.
The two Britons were part of a strong breakaway group, but the race came back together somewhat as the pace dropped in the final stages. However, Storey positioned herself perfectly going into the finishing straight, and – as other riders went down - Storey swept to victory, leading home Germany's Kirsten Brachtendorf and the USA's Samantha Bosco.
Storey said:
"I'm so chuffed to cross the line first – to win a second gold medal this week is something I genuinely didn't expect; it wasn't a selective course and it was a slow, quite tactical race."
Elsewhere, van Gass earned a fantastic silver medal in the MC3 event (nine laps), fighting back after getting caught behind a crash to storm to second in a sprint finish. He was just kept off the top spot of the podium by Germany's Steffen Warias, while Great Britain team-mate Ben Watson finished fifth.
Van Gass said:
"It was an extremely fast race. On the third or fourth lap there was a crash that sent me into the barriers, then I had to jump up as quickly as possible and catch up, which was basically a full-on time trial effort to get back on to the group.
"I'm extremely proud of myself. This means a great deal – with Tokyo next year this puts me in a good place. I'm eager and I'm hungry, so there are exciting times ahead."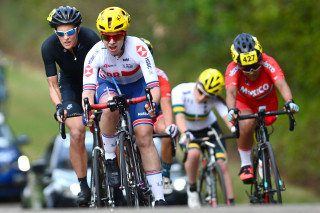 Katie Toft (WC1) won her second silver of the championships, finishing behind China's Wangwei Qian as she did in Thursday's time trial. Riding with the C2 and C3 categories, both riders admirably stayed with the bunch until deep into the seven-lap race, but it was the Chinese rider who finished the stronger to take gold.
Earlier on in the day, Will Bjergfelt and the tandem pairings of Lora Fachie and Corrine Hall and Steve Bate and Adam Duggleby all ended up in fourth in their respective categories, as the penultimate day of competition threatened to turn into one of near misses for Great Britain.
Bate and Duggleby got in the decisive break during the first half of their 14-lap race, as five pairings pulled away from the peloton. Those five bikes stayed together to produce a sprint finish for the medals, which was won by Dutch duo Tristan Bangma and Patrick Bos.
Spain's Adolfo Bellido Guerrero and Noel Martin Infante took silver and Poland's Marcin Polak and Michal Ladosz bronze, leaving Bate and Duggleby agonisingly empty-handed.
The women's race (over 11 laps) stayed together for far longer, before an attack from the Swedish pairing animated the final stages. However, they were reeled back in over the final lap, and a sprint for the line again decided the medals, with New Zealand's Emma Foy and Hannah van Kampen edging Ireland's Katie-George Dunlevy and Eve McCrystal out for gold, while Fachie and Hall were beaten to bronze by Polish pairing Justyna Kiryla and Aleksandra Teclaw.
Bjergfelt missed out on a medal in similar fashion, recording his second fourth place of the championships in the MC5 race (12 laps). The Briton helped to drive the relentless pace in the opening laps, but as the race progressed a strong-looking trio of Lauro Cesar Mouro Chaman (Brazil) and Daniel Abraham Gebru and Martin Van de Pol (both Netherlands) broke away to establish a healthy lead.
However, the bunch worked together to bring them back inside the penultimate lap, and as Italy's eventual winner Andrea Tarlao launched a decisive attack off the front, Bjergfelt remained in contention for a medal.
He found himself up against last year's winner and Thursday's time trial gold medallist Alistair Donohue in the finishing straight, but was just unable to match the Australian for pace, finding himself narrowly edged down into fourth.
Matthew Robertson did not finish the MC2 race.
Today's medals bring the Great Britain Cycling Team's total haul to eight - after Storey, Watson, Toft and both tandem pairings won time trial medals on Thursday - with one day of competition remaining. David Stone and Craig Collis-McCann (MT2), Hannah Dines (WT2) and Karen Darke (WH3) are all in action tomorrow.