Great Britain Cycling Team enjoyed a superb weekend at the UEC MTB European Championships, bringing two medals home from Brno, Czech Republic.
Harriet Harnden, bronze medallist at the 2018 World Championships, matched that performance on the continental stage, finishing third with 1:05.14 in junior women.
The national number one was out slightly slow but a final split of 12:47 was quicker than eventual winner Jacqueline Scheenebeli and nearly a minute faster than silver medallist Mona Mitterwallner.
Harnden, who finished over two minutes off the lead, edged out Hungary's Kata Vas by 20 seconds. Anna Flynn also flew down the closing stages of the course to finish 12th, while Anna McGorum placed 16th.
Youth Olympic medallist Harry Birchill secure a second medal inside a matter of hours for GB Cycling Team, bagging bronze with 1:05:35 in junior men.
Birchill was out of the traps quick and a particularly good negotiation of the third section of the course saw him hold up for a podium finish.
The Mid Devon ace found himself in a sprint finish with Italy's Emmanuele Vittone, which he edged by an eighth of a second to medal. Charlie Aldridge finished 33rd with a time of 1:10.08.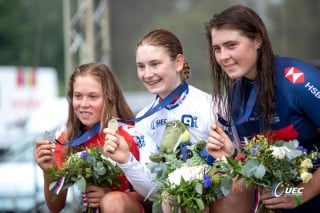 On Sunday, Frazer Clacherty was mightily impressive to improve a fifth-row gridding to finish a strong 19th on the second day of racing in the under-23 men.
Clacherty played it cool at the start due to his gridding in 45th but started to pick off rivals in an impressive display.
"I felt like I had a good race and I was moving pretty well for most of it," he said.
"I just sat on a group for the whole of the fifth lap and in hindsight I should have just cracked on.
"At the time I thought I was going to fade and I always like to finish strong. "I'm happy overall."