British Cycling has today announced the 11 riders who will line-up on the start gate in Great Britain Cycling Team colours at the forthcoming UCI BMX Supercross World Championships which take place in Zolder, Belgium, on 27th July.
Reigning European champion Kyle Evans has made selection for this year's world championships and will be looking to improve on his sixth-place finish in the finals of the 2018 world championships.
Kye Whyte, who scored a crowd-pleasing victory at round two of the UCI BMX SX World Cup series in Manchester in April this year will also be in action, as will his brother Tre Whyte, who won bronze at the 2014 world championships.
Completing the elite men's squad is Quillan Isidore, who was crowned the under-16 boys' world champion in 2012, and Paddy Sharrock who scored a career-best fifth place result in round one of the world cup series in Manchester.
In the elite women's event, the 2017 junior world champion Beth Shriever – who has recently re-joined the World Class Programme – will once again line up for Great Britain.
In the junior events, Ross Cullen who finished fifth in last year's junior world championships has been selected along with Ryan Martin, Matthew Hutt and Joel Clarke, while Ellie Featherstone will compete in the junior women's race.
Performance Director Stephen Park said: "The BMX performances we have seen over the past year have shown huge promise. Just some examples of this include Kyle and Kye completing a GB one-two at the European Championships, Kye winning in Manchester, Paddy making his first world cup finals in Manchester, Ross and Ryan winning junior races in rounds of the European Cup and Ellie reaching the semi-finals in an elite event as a junior rider. Based on this level of progression, I am looking forward to seeing what we can go on and achieve against the world's best.
"Performances aside, it's been pleasing to see how well the squad riders work together as a team, the level of support and encouragement they offer each other and the way they pull together to work for their joint aim of securing as many Olympic qualification points as possible for the squad. To me, this epitomises what it means to be a part of the Great Britain Cycling Team."
"I'd also like to take this opportunity to welcome Beth back onto our programme where she will once again receive full access to our performance support team to achieve her Olympic ambitions."
Kyle Evans said: "Being crowned as the European champion back in August was undoubtedly my career highlight, not only winning the race but doing it in front of my family and being able to stand on the podium with my GBCT team mate Kye was just unreal.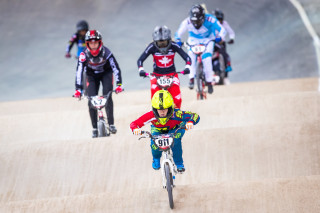 "Towards the start of this season, I wasn't quite where I wanted to be, but I've had some time to reflect on things and I'm taking some confidence from making the finals at the last world cup in Paris and my victory in Prague over the weekend. My focus is now fully on Zolder and performing to my best there."
Beth Shriever said: "I am thrilled to be selected to represent Great Britain at a world championships once again. Zolder is up there as being one of my favourite tracks, especially since I won a round of the world cup series there last year, and I'm in a good place with my training. I'm also really excited to be back on the World Class Programme and seeing how much I can achieve with all their support."
Great Britain Cycling Team for the UCI BMX SX World Championships 2019, Zolder:
Elite Men
Kyle Evans
Quillan Isidore
Paddy Sharrock
Kye Whyte
Tre Whyte
Elite Women
Beth Shriever
Junior Men
Joel Clarke
Ross Cullen
Matthew Hutt
Ryan Martin
Junior Women
Ellie Featherstone