Kye Whyte and Kyle Evans emphatically improved on their Saturday performances to reach the final in round six of the UCI BMX Supercross World Cup.
The two reached the semi-finals in round five in France but upped their displays on Sunday, deservedly earning spots in a gripping main event.
A place on the podium proved just out of reach as Whyte and Evans finished sixth and seventh respectively, victory instead going to Niek Kimmann of the Netherlands.
But the two can certainly hold their heads high after adding more strong performances to a stellar 12 months on the bike.
Evans became European champion in Glasgow last year and has certainly shown his desire to fight, coming through in the fourth and final qualifying spot in three consecutive races prior to reaching the final.
Whyte, victorious in Manchester in April, enjoyed a more serene approach to the latter stages, taking several first-place finishes though he needed a last-straight overtake just to reach the final race.
British representation far from ended there, with Bethany Shriever reaching the semi-finals for the second successive day in Saint-Quentin-en-Yvelines.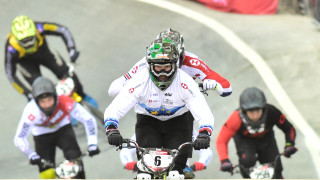 The junior world champion from 2017 showed her class in the early stages before scraping through her 1/4 final with a fourth-place finish.
And a high-drama semi-final saw her unable to reach the last race of the weekend, with rider jostling seeing her shut out as she eventually finished in seventh position.
Great Britain Cycling Team riders Paddy Sharrock and Quillan Isidore were also in action, though they missed out in the 1/4 finals after suffering crashes in their respective races.
Sharrock hit the deck while battling for position in the first straight while an unbalanced Isidore couldn't stay upright in the opening stages of his outing.
There were also strong performances from youngsters Ross Cullen and Ryan Martin in France, the latter impressing en route to the 1/8 final with resilient performances to take him through in fourth on two occasions.
Cullen, meanwhile, snuck through in fourth from his first round but couldn't progress any further, despite a wonderful start to his 1/16 race, while Tre Whyte missed out in the 1/8 race.
The BMX Supercross World Cup series head to the United States next up for rounds seven and eight in Rock Hill, though before that is the small matter of the World Championships in Zolder, next month.