Reigning European BMX champion Kyle Evans is set to take to the start gate at his home track in Manchester for the opening two rounds of the UCI BMX Supercross World Cup series, taking place on 27th and 28th April.
Evans will be joined by his Great Britain Cycling Team BMX senior squad team mates Quillan Isidore, Paddy Sharrock and brothers Kye and Tre Whyte in the elite men's events in what promises to be an exciting weekend of racing thanks to the strength of a world-class international field entered to compete.
The Great Britain Cycling Team will also be represented by development squad riders Ross Cullen, Ellie Featherstone, Imogen Hill and Ryan Martin who will step up from the junior ranks to take on the elite riders.
Lead coach Marcus Bloomfield said: "I was pleased with how the 2018 season went for the BMX squad, both in terms of results and the learnings we can take away and build on.
"The UEC European Championships in Glasgow were a particular highlight, with Kyle and Kye finishing in a one-two for Great Britain, and similarly the world championship placing of sixth for Kyle in the elite men's race and Ross Cullen in fifth in the junior men's race was a promising step forward for the squad.
"Our 2019 season began at the end of March, with Kye taking to the podium in the first round of the European series out in Verona and building on the results he got last year. We travel to Zolder next weekend for the next two rounds of the European series before turning our focus to Manchester and the opening rounds of the world cup series.
"I'm hoping to see the senior squad riders take full advantage of being on our home track in Manchester and put together what they've learned about handling the pressure of being the home favourites. I'd like to see them all in the mix for the finals across the two days.
"For the development squad, I'm keen they learn from this opportunity. They'll be amongst some of the world's best BMXers on the start gate so I'm looking forward to seeing how they manage that as well as furthering their development in terms of race day preparations by being in the same environment as so many elite riders.
"We have a history of success racing in Manchester and I know everyone on the squad is looking forward to racing with the support of a home crowd."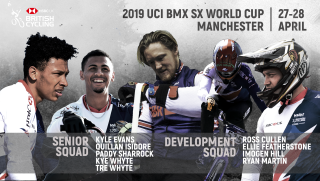 This will be the first time since 2016 that rounds of the world's premier BMX series have been contested in Manchester. Since that last event – at which Liam Phillips and Kyle Evans secured a British one-two – the venue's track has undergone significant changes, which are set to ensure more thrilling international competition.
Tickets for the UCI BMX Supercross World Cup are available for purchase here.
The Great Britain Cycling Team Programme Riders for the UCI BMX SX World Cup, Manchester:
Senior Squad:
Kyle Evans
Quillan Isidore
Paddy Sharrock
Kye Whyte
Tre Whyte
Development Squad:
Ross Cullen
Ellie Featherstone
Imogen Hill
Ryan Martin