Great Britain's men's and women's team pursuit squads will both take home silver medals from the 2019 UCI Track Cycling World Championships in Pruszkow, Poland.
The men's team pursuit squad of, Ed Clancy, Kian Emadi, Ethan Hayter and Charlie Tanfield recorded Britain's fastest time since the Rio Olympics on Thursday evening.
The four riders set a time of 3:50.8, but were beaten on the evening by a strong Australian team who broke their own world record from the 2018 Commonwealth Games, setting a new time of 3:48.012.
After the race Hayter said:
"We were a little bit messy to be honest we could tidy up and be quicker. We're not going to walk away from here and be disappointed with 3:50.8. We've got more to come, and just disappointed not to win a world title."
Team mate Clancy added, "The Australians are good, they've been good for a long time, they were favourites coming in here.
"That said we rode really well yesterday – I guess tonight we saw what they're capable of and we've got to face up to that.
"We always seem to perform our best performances at the Olympics and I've not got a reason to think that's not going to be the case this time as well."
The unchanged women's team pursuit quartet featuring Elinor Barker who took the honours in the scratch race yesterday evening, Katie Archibald, Ellie Dickinson and Laura Kenny won their semi-final in the first event of the evening convincingly against New Zealand.
In their final against Australia, they faced the same fate as their male counterparts, losing out narrowly to a strong team who looked to falter in the final moments, their pursuit line breaking apart and almost handing Britain the win.
Having made it to every final of a keirin competition he had been in this season, Jack Carlin entered the semi-final with a statistic to uphold. It would require him to stay upright on his bike after a tussle with Malaysia's Awang before fighting to win the third and final qualification spot.
The Scot took the final to his competitors from the front early on in the final, but was boxed into the sprinters line with two laps to go and was unable to fight his way out and came across the line fifth.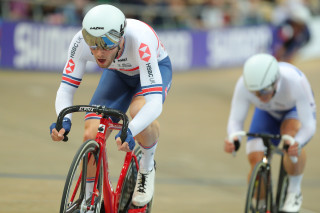 Matt Walls finished sixth overall in the men's scratch race. He had to chase down every move and put in a concerted effort throughout the race, before Sam Wellsford of Australia sprinted impressively to the win.
Katy Marchant was Britain's only entry into the women's sprint competition. She unfortunately didn't make it to the evening session being knocked out in the 1/8th finals by Germany's Lea Sophie Freidrich.