Laura Kenny says that winning omnium gold at the latest round of the TISSOT UCI Track World Cup in Milton, Canada, was the best she's felt on the track since her return, despite admitting to a "shaky" re-introduction to bunch racing.
The four-time Olympic champion took time out after the Rio Games, as she and husband Jason welcomed their first child, Albie. Since returning, Kenny has claimed national and European titles, however Milton represented a return to international omnium competition for the London and Rio Olympic champion.
Ahead of the next two rounds of the series, in Berlin and then at London's Lee Valley VeloPark in December, Kenny said:
"Canada was probably the best I've felt in a long time. It's always hard to compare, because the last racing I did before I had Albie was at an Olympic Games, which is the peak of your career, but I was really pleased with how I performed in Canada."
For Kenny, who won Olympic omnium gold over two days in both London and Rio, Milton was the first opportunity to test herself in the new one-day, four-event format at international level.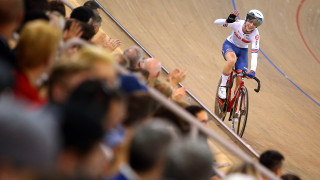 "The omnium has changed every time I've done it, and it's going to be like that in Tokyo as well," she continued. "For me, it brings a freshness to it – it's a different event so I have to re-learn it, and I quite like that because there's nothing to compare it to.
"I like the fact that it's now really punchy – the races are a lot shorter than they used to be in the old-style omnium across two days, and because it's only the one day now, you only get two hours between races, and I guess I quite like that too.
"It took a bit of getting used to – I was a little bit shaky in the first two events in Milton and didn't feel comfortable in the bunch, as there were a lot of riders who I didn't know. But once I started the elimination race, I thought 'actually, I can do this', and I felt like myself again. Then I really enjoyed the points race – I just felt free to race my bike, and I really did love it."
Since Kenny's victory in Rio, a number of riders have tasted international omnium success, including Great Britain team-mate Katie Archibald, who claimed the world and European titles in 2017.
Despite her virtually faultless record in the event, Kenny is aware that she faces a battle to be the Briton taking on the event in Tokyo, before she is able to consider the prospect of a third successive Olympic title.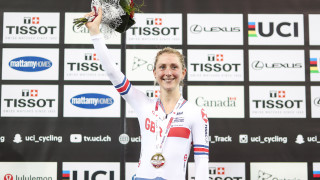 She added: "I think both the overall standard of the omnium and the riders within the British team have moved on (since Rio). That's always going to happen – once you step away, it's hard to step back in.
"The competition even in our training sessions is unbelievable. There isn't just Katie, but people like Neah Evans and Elinor Barker, and a number of other girls coming through. But that's great, because it makes our training really hard, and that's what we need to get better – not just for the individual events but for the team too.
"The stronger we are, the better our team pursuit team is going to be, so although you want to say 'I want to do the omnium at the Olympics', so does everybody else, and that's what makes our team so good.
"As a squad we're going in the right direction, and personally I feel like I've been in a good place. The omnium in Canada was a big focus, and I'd like to think I'll carry on getting better now."
Kenny has been named in the Great Britain Cycling Team squad for round three of the TISSOT UCI Track World Cup series in Berlin, which takes place between November 30 and December 2 and, pending selection, she will compete in front of a home crowd at round four in London in December.
The event at Lee Valley VeloPark takes place between December 14 and 16, and limited numbers of tickets are still available here.