British riders are back in action this weekend as the 2018 Mercedes-Benz UCI Mountain Bike World Cup continues in the Czech Republic.
Nove Mesto plays host to the third world cup cross-country round of the season with a number of Great Britain Cycling Team riders set for the start line.
The riders
World championships silver medallist Annie Last will look to continue her strong start to the season in the Czech Republic.
The Team KMC EKOI SR Suntour rider finished 11th in the season opener in South Africa, before claiming ninth in last weekend's round in Germany.
Last's Great Britain Cycling Team teammate Evie Richards has also started the season well and will continue her battle with Switzerland's Sina Frei in the women's under-23 race in Nove Mesto.
Richards (Trek Factory Racing) finished second in Germany and will look to go one better this weekend at the site of the 2016 UCI MTB World Championships with her Great Britain Cycling Team colleague Emily Wadsworth also competing.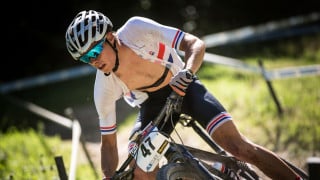 Frazer Clacherty produced a strong performance in Albstadt last weekend, finishing 15th in the men's under-23 race.
Clacherty (OMX Pro Bike Team) was the best performing British rider in the under-23 race and will be joined on the start line by Great Britain Cycling Team's Cameron Orr and Dan Tulett.
Two more riders who produced strong Commonwealth Games performances will take to the start line in Albstadt in the under-23 men's race.
Frazer Clacherty (OMX Pro Bike Team) and Cameron Orr - representing Great Britain Cycling Team - both finished in the top ten on the Gold Coast and will be keen to make their mark again this weekend.
British Cycling's lead cross-country mountain bike coach Simon Watts is looking forward to another weekend of competition.
"I was pleased with elements from a number of the riders last weekend. Frazer's start, Emily's technical delivery and the way Dan took on the establishment phase of the race, were all really pleasing. Evie's performance was world class, she continues to adapt well to working with her pro team at these events and is dealing with the pressures and expectation extremely well.
"The world cup last weekend served as a good indicator for the squad riders as to where they need to focus their training in order to make improvements for the rest of the season, starting with the Nove Mesto round this weekend.
"The Nove Mesto course is always a favourite with the riders, it's an extremely well-organised event at a venue which has a good mix of challenges, which provides top-quality racing year on year."
"Each lap contains five short repeated climbs followed by a man-made technical feature. The variety of the course makes for some exciting racing and attracts big crowds, which is a great experience for our development riders."
In addition to the six Great Britain Cycling Team riders, a number of other British riders will be racing in Nove Mesto.
Grant Ferguson (CST Sandd American Eagle MTB Racing Team) will hope for better fortune – looking to improve on his 71st place finish in Albstadt. Ferguson will be joined by Jason Bouttell in the elite men's race.
Kerry MacPhee lines up in the elite women's race while Isla Short (Habitat Mountain Bike Team) competes in the under-23 women's race.
About the Mercedes-Benz UCI Mountain Bike World Cup
The Mercedes-Benz UCI Mountain Bike World Cup is a ten-round competition encompassing three different mountain bike formats.
There are seven rounds of cross-country and downhill races and the world cup debut of a new event in 2018 - cross-country short circuit, which features six times.
The cross-country season opener took place in Stellenbosch, South Africa before the downhill season kicked off in Losinj, Croatia.
This weekend's racing in Nove Mesto, Czech Republic follows last weekend's cross-country round in Albstadt, Germany.
There are also back-to-back downhill weekends in June, with the popular home round in Fort William followed by a trip to Leogang, Austria.
The final four rounds feature all three disciplines, with race weekends in Val di Sole, Italy and Vallnord, Andorra in July followed by Mont-Sainte-Anne, Canada and La Bresse, France in August.
Riders will do battle to be crowned world cup winners in their individual disciplines.
The schedule (UK times)
Friday 25 May
5pm - World Cup Cross-country Short Track - Women
5.45pm - World Cup Cross-country Short Track - Men
Saturday 26 May
1pm - World Cup Cross-country - Under-23 women
3pm – World Cup Cross-country – Under-23 men
Sunday 27 May
10.20am - World Cup Cross-country - Elite women
1.35pm - World Cup Cross-country - Elite men
How to follow
Live coverage of the elite races on Red Bull TV
Updates on British Cycling's Twitter
Report will appear on the British Cycling website