The 2018 UCI BMX Freestyle Park World Cup is back for the second round in Montpellier this week, with the Great Britain Cycling Team squad looking to build on an encouraging performance in the opening round of competition.
About the BMX Freestyle Park World Cup
Set to make its debut as an Olympic sport in Tokyo in 2020, BMX Freestyle Park is one of cycling's most thrilling and spectacular disciplines.
Riders compete on a 30x50 metre course with ramps, big transition sections and obstacles, looking to impress the judges with their two one-minute runs.
Riders are scored on the difficulty and height of their tricks, the flow of their run, their use of course, originality, execution, risk, style and the total number of tricks - riders will receive a score between zero and 100.
Hiroshima was the opening stop of the 2018 UCI BMX Freestyle World Cup - with Montpellier in France hosting round two.
The competition heads to North America next, with Canada hosting the third round in Edmonton.
Round four takes place in Budapest, Hungary in September with the final round in Chengdu, China in November where overall world cup winners will be crowned.
The team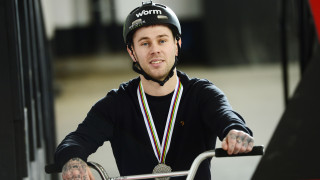 An extended squad of seven riders will be making the trip to the south of France, including Alex Coleborn and Charlotte Worthington who both placed sixth in the first round of competition in Hiroshima.
2017 UCI Urban Cycling World Championships silver medallist, Alex Coleborn, made a strong start in Japan and leads the team again in Montpellier as he looks to climb the overall world cup rankings.
Jack Clark, another finalist in Hiroshima, is joined by Mark Webb and Ben Wallace along with world cup debutants James Jones and Emma Finnegan. After being forced out of the first world cup round through injury, Declan Brooks remains sidelined and misses out on the squad for Montpellier.
Great Britain Cycling Team for the UCI BMX Freestyle Park World Cup, Montpellier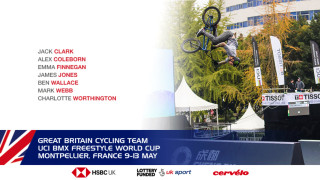 The venue
The world cup will be held on the riverside of Le Lez in Montpellier, as one of the flagship events of FISE (the international festival of extreme sports). Held over five days, the festival plays host to 500,000 spectators hoping to see the best BMX riders from around the world, along with roller skating, skateboarding, mountain biking, parkour and more.
The schedule (UK times)
Wednesday 9 May
Women's qualification: 2pm - 3:30pm
Thursday 10 May
Men's pre-qualification heat one: 10.40am - 1pm
Men's pre-qualification heat two: 2.20pm - 4.30pm
Friday 11 May
Women's final: 9:30am - 11am
Men's qualification heat one: 12pm - 1.45pm
Men's qualification heat two: 2.45pm - 4.30pm
Men's qualification heat three: 5.30pm - 7.15pm
Saturday 12 May
Men's semi-final: 12.20pm - 2.20pm
Sunday 13 May
Men's final: 4.30pm - 5.45pm
How to follow
Live coverage of the semi-finals and finals on the British Cycling website
Updates on Twitter
Report from the finals on the British Cycling website
Watch live