Having recently launched the Great Britain Cycling Team's BMX Freestyle Park squad, British Cycling has today confirmed the seven BMX freestylers who will represent Great Britain at the second round of the UCI BMX Freestyle Park World Cup series in Montpellier, France, taking place from 9th – 13th May.
Jack Clark, Alex Coleborn and Charlotte Worthington, all of whom made the finals at the first round of the world cup series in Hiroshima, will be back in action for Great Britain in Montpellier. They will be joined by fellow programme members James Jones and Emma Finnegan while Ben Wallace and Mark Webb complete the line-up.
British Cycling's BMX Freestyle Park Lead Richard King said: "I'm really pleased with the progression which has been made between British Cycling and the freestylers to be in the position we are currently in. I thought the team put down some very strong performances in Hiroshima – the first time we've had support from the national governing body at a competition – and I'm looking forward to building on this as we move through the season.
"Declan Brooks, who came second in the world cup launch event, unfortunately misses out on this stop of the world cups series due to injury but he's in the great hands of British Cycling's performance support team and is recovering well, so we're hopeful of seeing him back in training before the end of this season.
"Montpellier is very much the 'flagship' event of the world cup series, and previous editions held here as part of the FISE World Series have seen tens of thousands of spectators each day turn out to watch the action. This is a great opportunity to not only compete but also to showcase the sport in front of a massive audience, and all the riders are looking forward to competing for their country at the event."
The Great Britain Cycling Team for the UCI BMX Freestyle World Cup, Montpellier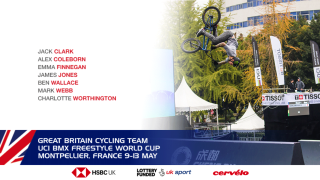 Jack Clark
Alex Coleborn
Emma Finnegan
James Jones
Ben Wallace
Mark Webb
Charlotte Worthington