In what has been a fantastic season for British cyclo-cross riders, a strong team of 13 riders have been selected to represent Great Britain at the UCI Cyclo-cross World Championships including the recently crowned 2018 national champions Helen Wyman, Tom Pidcock, Evie Richards, Harriet Harnden and Sean Flynn.
The world championships, taking place on 3-4 February in Valkenburg, the Netherlands, will see the trio of Tom Pidcock, Ben Turner and Dan Tulett who filled the junior men's podium at the event in 2017 all make the step up to represent Great Britain in the under-23 men's category. The reigning junior world champion Pidcock will be looking to add another rainbow jersey to his collection having successfully transitioned into the under-23 age group by winning four rounds of the world cup series to seal the overall victory.
Ten-time national champion Helen Wyman has twice finished on the podium at world cups this year and will be looking to continue this form into the world championships. Also lining up to represent the elite women is Nikki Brammeier, who finished second in the world cup in Namur, along with Beth Crumpton. In the elite men's category, Ian Field will represent Great Britain.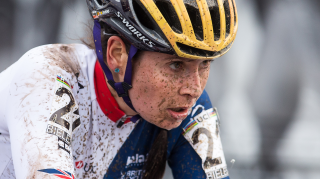 In the under-23 women's category, 2017 silver medallist Evie Richards will be back in action, having secured the victory in the elite women's category at the world cup in Namur last month and finishing third in Hoogerheide over the weekend. Richards will be joined by junior national champion and fellow British Cycling squad rider Hattie Harnden with Anna Kay also making selection.
Ben Tulett, brother of Dan Tulett, will represent Great Britain in the junior men's category having enjoyed some strong results at races around Europe this season, including a podium finish at the Namur world cup. Junior national champion Sean Flynn is selected with Jenson Young completing the line-up.
British Cycling's cyclo-cross co-ordinator Matt Ellis said: "There is a lot of excitement within the squad ahead of this year's world championships thanks to the successful season the British riders have enjoyed so it should be a great event for Great Britain.
"The course is difficult, as you would expect for a world championships. It's hilly, with a lot of off-camber sections which requires high fitness levels and it's grassy therefore likely to get muddy and slippy which will challenge the riders' technical abilities.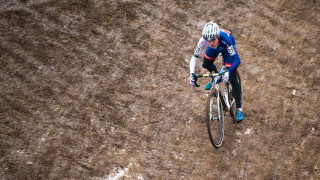 "Looking at the skillsets of the riders we have selected, the course does suit a lot of our riders' attributes and I think we can expect some good results at this year's world championships, reflective of what we've seen from them this season."
2017 silver medallist Evie Richards said: "I'm looking forward to this year's cyclo-cross world championships, I feel like I've had a good build-up to it over the past couple of months.
"I was thrilled to win in the elite women's category in Namur and finish on the podium over the weekend in Hoogerheide; the level of competition was pretty tough in both of those races so it was a boost to my confidence.
"I love racing cyclo-cross, and obviously the world championships is the biggest race on the calendar, so I'm excited about racing in Valkenburg."
Great Britain Cycling Team for UCI Cyclo-cross World Championships, Valkenburg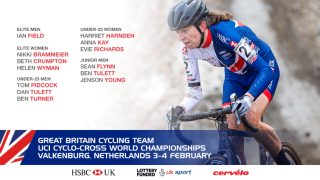 Elite men
Ian Field
Elite women
Nikki Brammeier
Bethany Crumpton
Helen Wyman
Under-23 men
Tom Pidcock
Dan Tulett
Ben Turner
Under-23 women
Harriet Harnden
Anna Kay
Evie Richards
Junior men
Sean Flynn
Ben Tulett
Jenson Young