British Cycling has today announced the team of riders who will represent the Great Britain Cycling Team at the Telenet UCI Cyclo-cross World Cup in Koksijde, Belgium on 22 October.
Fresh from his junior time trial victory at the UCI Road World Championships last month, the reigning junior cyclo-cross world champion Tom Pidcock will be competing in the under-23 men's category in Belgium, as will Ben Turner who won the bronze medal at the world championships.
Representing Great Britain in the under-23 women's category is Anna Kay and Amira Mellor, who finished first and second respectively at the first round of the HSBC UK | Cyclo-cross National Trophy last weekend.
Junior riders Matt Ellis, Cameron Mason, Ben Tulett and Jenson Young will line up for Great Britain in the junior men's race.
British Cycling's cyclo-cross co-ordinator Matt Ellis said: "This is the first round of the world cup series in which we have entered a Great Britain Cycling Team and the riders are excited to start their international season in Belgium.
"The team is relatively young, with Tom, Ben and Anna all making the step up to the under-23 category this year, but there is a lot of potential within the squad and we should be able to deliver some good results. The course in Koksijde is physically challenging, particularly if it's a dry day, due to the majority of it being on sand but it's a popular event on the cyclo-cross calendar and attracts big crowds of support.
"This will be my first major event working for the Great Britain Cycling Team and I'm looking forward to the season ahead."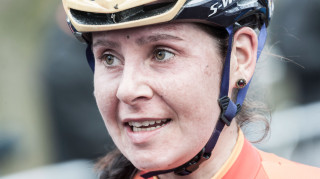 British riders Nikki Brammeier, Beth Crumpton, Ian Field, Hannah Payton and Helen Wyman will also compete in the elite events for their respective trade teams.
Great Britain Cycling Team for Telenet UCI Cyclo-cross World Cup, Koksijde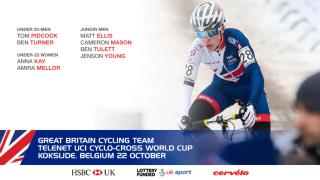 Under-23 men
Tom Pidcock
Ben Turner
Under-23 women
Anna Kay
Amira Mellor
Junior men
Matt Ellis
Cameron Mason
Ben Tulett
Jenson Young