British Cycling has named the riders that will make up the Great Britain Cycling Team Senior Academy for the coming year.
31 riders are selected, including 14 who have graduated from the Junior Academy and two riders - Sylvia Misztal and Milly Tanner - who are graduates of the Discover Your Power project, undertaken by UK Sport. The Senior Academy is the final step on the pathway to the senior Great Britain Cycling Team with recent graduates including Manon Lloyd, Emily Nelson, and Mel Lowther.
Misztal and Tanner are joined in the women's sprint squad by Lauren Bate, Sophie Capewell and Georgia Hilleard, while Blaine Ridge-Davis makes the switch to explore her potential on the track after a successful BMX season in 2017 which saw her crowned junior European champion. The men's sprint squad will consist of Alex Jolliffe, Lewis Stewart and Hamish Turnbull.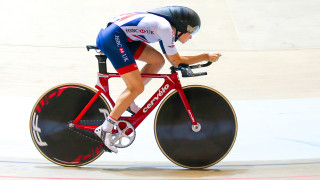 After a successful first season on the Great Britain Cycling Team, which saw her win a gold medal in the team pursuit at the UCI Track Cycling World Cup in Glasgow, Ellie Dickinson is joined in the women's endurance squad by 2016 junior world champion Becky Raybould, Megan Barker, Rhona Callander, Abbie Dentus, Lauren Dolan, Jenny Holl and Jessica Roberts.
Nine riders make up the men's male endurance programme with Matt Bostock, Matt Walls, Adam Hartley, Ethan Hayter, and Joe Holt returning for another year on the senior academy with Rhys Britton, Joe Nally, Jake Stewart and Fred Wright all making the step up from the Junior Academy.
MTB and BMX
Following a restructure due to UK Sport's funding decisions, the mountain bike and BMX squads will both form one senior squad. Despite these changes, riders in both disciplines will still access the same level of support provided to those on the sprint and endurance Senior Academy.
This will see Kye Whyte move into the BMX Senior Programme, while Dan Tulett, Cameron Orr, Emily Wadsworth and Sophie Wright step up to the senior mountain bike squad. A full rider list for our Podium and Senior squads will be released when the Great Britain Cycling Team Podium Programme is announced.
The riders will now take part in a Manchester-based induction week before commencing their winter training programmes. The induction is designed to prepare riders for life on the programme, and will cover a vast array of topics to help them prepare for life as part of the Great Britain Cycling Team.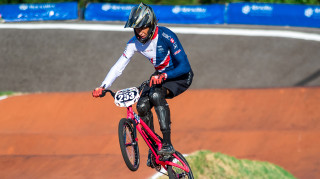 Ian Yates, Performance Pathway manager for the Great Britain Cycling Team, said: "We run programme induction to help the riders acclimatise to their new surroundings in Manchester, get to know their team mates and programme staff and learn some invaluable new skills.
"We know that all of the riders are incredibly talented, but it's also so important that they're prepared for the demands of life as a full time athlete off the bike too. This can mean anything from health and nutrition to public speaking and even learning a foreign language to help them when living and racing abroad.
"Competition for places is as fierce as ever, largely due to the success of our pathway, and we are confident that the squad we have selected will go on to achieve great things in the future. I'm looking forward to watching them all develop and supporting them as they progress through the Senior Academy, and hopefully, into Senior Programme and on to professional teams."
Lauren Dolan, who represented the Great Britain Cycling Team at the 2017 UCI Road World Championships in Norway, and steps up from the Junior Academy said: "It's an honour to be selected for the Senior Academy, and follow in the footsteps of so many riders who have gone on to achieve such great things in the sport.
"Representing the Great Britain Cycling Team at my first world championships this year has really given me a hunger to keep working hard and improving with the ultimate aim of competing at senior world championships and the Olympic Games."
Senior Academy
Women's endurance
Ellie Dickinson
Becky Raybould
Megan Barker
Rhona Callander
Abbie Dentus
Lauren Dolan
Jenny Holl
Jessica Roberts
Men's endurance
Matt Bostock
Matt Walls
Adam Hartley
Ethan Hayter
Joe Holt
Rhys Britton
Joe Nally
Jake Stewart
Fred Wright
Men's sprint
Alex Jolliffe
Lewis Stewart
Hamish Turnbull
Women's sprint
Sylvia Misztal
Milly Tanner
Lauren Bate
Sophie Capewell
Georgia Hilleard
Blaine Ridge-Davis
Senior
BMX
Kye Whyte
MTB
Dan Tulett
Cameron Orr
Emily Wadsworth
Sophie Wright