Great Britain Cycling Team's Evie Richards reached her first international mountain bike podium of the year as she took the silver medal at the first cross-country UCI Mountain Bike World Cup of 2017 in the Czech Republic.
The 2016 under-23 cyclo-cross world champion has high hopes for herself in the mountain bike cross-country discipline, with a podium finish at the world championships in Cairns this September set firmly in her sights.
After missing her pedal on the start, Richards went out hard on the start loop, in order to split the race.
The British team had prepared for the Nove Mesto course, where racing in groups can often be slower as they stall the riders' rhythm over the roots, while the repeated climbs makes areo gains from drafting negligible.
She got knocked down, but she got up again...@eviee_alicee wins silver despite an first lap crashhttps://t.co/79vIR1udNY#UCIMTBWC pic.twitter.com/pjhJysE0gz

— British Cycling (@BritishCycling) May 21, 2017
Richards pushed on through the back end of the start loop in first place, together with American rider Kate Courtney and the pair got a good gap on the chasing field.
A crash for Richards on the rock garden gave Courtney the gap over the British rider on the first main lap.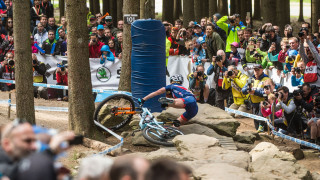 Richards regained her rhythm and crossed the line in second place.
Mountain bike cross-country lead coach Simon Watts said that, despite her early fall, he was pleased to see Richards regain a good pace and hold her advantage.
"It's a really solid start to the World Cup calendar," he said.
"Next week will be tough, with Albstadts savage climbs."
Senior Academy rider Ella Conolly unfortunately did not finish the race, having to retire due to illness.
Results