Rainbow stripes will be up for grabs as the Great Britain Cycling Team head to Los Angeles, USA for the 2017 UCI Para-cycling Track World Championships from 2-5 March.
As well as world titles, tandem riders will also be chasing valuable qualification points ahead of the Gold Coast 2018 Commonwealth Games in Australia.
The team
A squad of eight riders and six tandem pilots have been selected to compete for the Great Britain Cycling Team in Los Angeles.
12-time world champion Jody Cundy will head up the squad, fresh from his double Paralympic gold medal haul in Rio de Janeiro in 2016.
Cundy will look to defend his world title in the C4 1km time trial - an event he has dominated since making his track cycling debut on the world stage in 2006.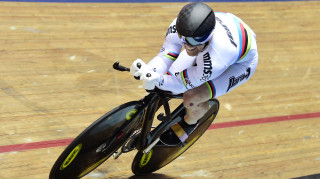 Alongside Cundy, and receiving his second successive world championships call-up, is Jon Gildea.
The 38-year-old won silver in the scratch race in 2016 in Montichiari and, following a strong performance at the HSBC UK | National Track Championships last month, will head to the USA confident of reaching the podium once again.
For the six visually impaired athletes competing in Los Angeles, the world championships serve a dual purpose; both world titles and qualification points for the Gold Coast 2018 Commonwealth Games will be up for grabs.
With those championships in mind, a number of new combinations will take to the track at the Velo Sports Center, with two-time 2017 national champions Sophie Thornhill and Corrine Hall expected to challenge for major honours.
Thornhill and Hall both won gold and bronze medals at the Paralympic Games last summer, albeit with different partners, and their Rio teammates Helen Scott and Lora Fachie will both be present in the USA.
Thornhill's previous partner Scott will now pilot Alison Patrick, a Paralympic silver medallist in Rio in para-triathlon who is now set to make her Great Britain Cycling Team debut at the 2017 championships.
Meanwhile, Corrine Hall's stoker in Brazil, Lora Fachie (née Turnham) will be partnered by Hazel MacLeod, who herself piloted Alison Patrick to that Paralympic triathlon silver.
A fourth female duo will compete in Los Angeles, with three-time Paralympic gold medallist Aileen McGlynn making her first appearance in Great Britain Cycling Team colours since 2012.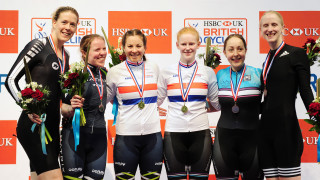 McGlynn will be piloted by Louise Haston, reuniting the double silver medal winning duo for Scotland from the 2014 Commonwealth Games in Glasgow.
For the men, two tandem pairs have been selected. Paralympic silver medallist Neil Fachie once again teams up with Craig Maclean, a combination that won double gold at the 2014 Commonwealth Games.
Fresh from his Paralympic debut, James Ball is selected for his second UCI Para-cycling Track World Championships.
Very pleased to announce that I have been selected for the #World #Championships in #LosAngeles!! #Cycling #Tandem pic.twitter.com/ruOeRrh9Ib

— James Ball (@Ballyj2012) February 1, 2017
A bronze medal winner in the tandem sprint in Italy last year, Ball teams up with debutant Matt Rotherham, fresh from his strong performance at the HSBC UK | National Track Championships.
Great Britain Cycling Team for the 2017 UCI Para-cycling Track World Championships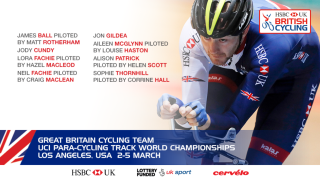 James Ball (piloted by Matt Rotherham)
Jody Cundy
Lora Fachie (piloted by Hazel Macleod)
Neil Fachie (piloted by Craig Maclean)
Jon Gildea
Aileen McGlynn (piloted by Louise Haston)
Alison Patrick (piloted by Helen Scott)
Sophie Thornhill (piloted by Corrine Hall)
The venue
The UCI Para-cycling Track World Championships returns to StubHub's Velo Sports Center;the championships having previously been held at the venue in February 2012
Based in Carson, to the south of downtown Los Angeles and north of Long Beach, the largest indoor velodrome in America has capacity for 2,450 spectators and features a 250-metre indoor Siberian Pine wooden track, with a maximum incline of 45 degrees.
The event takes place in a bumper fortnight for cycling in California, with the final round of the 2016/17 Tissot UCI Track Cycling World Cup being held at the same venue one week ahead of the world championships.
The schedule
The time in Los Angeles is eight hours behind UK time. Times below are UK time.
Thursday 2 March - 10pm-2am
10pm-10.28pm - Women's B 3km individual pursuit qualification
10.28pm-10.49pm - Men's B 4km individual pursuit qualification
1.01am-1.15am - Women's B 3km individual pursuit finals
1.15am-1.29am - Men's B 4km individual pursuit finals
1.29am-1.54am - Award ceremonies
Friday 3 March - 9pm-2am
11.04pm-11.22pm - Men's C5 1km time trial
11.22pm-11.50pm - Men's C4 1km time trial
11.50pm-12.14am - Award ceremonies
Saturday 4 March - 6pm-7.30pm, 9pm-11.30pm
7.12pm-7.30pm - Men's C5 4km individual pursuit qualification
9.47pm-10.01pm - Men's C5 4km individual pursuit final
10.01pm-10.18pm - Women's B 1km time trial final
10.18pm-10.32pm - Men's B 1km time trial final
10.32pm-10.56pm - Award ceremonies
Sunday 5 March - 5pm-7.45pm, 9pm-12.45am
5pm-5.23pm - Women's B sprint qualification
5.23pm-5.43pm - Men's B sprint qualification
6.04pm-6.24pm - Women's B sprint quarter-final heat one
6.24pm-6.44pm - Men's B sprint quarter-final heat one
6.44pm-7.04pm - Women's B sprint quarter-final heat two
7.04pm-7.24pm - Men's B sprint quarter-final heat two
7.24pm-7.34pm - Women's B sprint quarter-final heat three (if required)
7.34pm-7.45pm - Men's B sprint quarter-final heat three (if required)
9pm-9.10pm - Women's B sprint semi-final heat one
9.10pm-9.20pm - Men's B sprint semi-final heat one
9.30pm-9.40pm - Women's B sprint semi-final heat two
9.40pm-9.50pm - Men's B sprint semi-final heat two
9.50pm-9.55pm - Women's B sprint 7-8th place final
9.55pm-10pm - Women's B sprint 5-6th place final
10pm-10.10pm - Women's B sprint semi-final heat three (if required)
10.10pm-10.20pm - Men's B sprint semi-final heat three (if required)
10.20pm-10.25pm - Men's B sprint 7-8th place final
10.25pm-10.30pm - Men's B sprint 5-6th place final
10.30pm-10.40pm - Women's B sprint finals heat one
10.40pm-10.50pm - Men's B sprint finals heat one
10.50pm-11.10pm - Men's C4-5 15km scratch race final
11.10pm-11.20pm - Women's B sprint finals heat two
11.20pm-11.30pm - Men's B sprint finals heat two
11.52pm-12.02am - Women's B sprint finals heat three (if required)
12.02am-12.12am - Men's B sprint finals heat three (if required)
12.12am-12.24am - Award ceremonies
How to follow the 2017 UCI Para-cycling Track World Championships
Reports, results, images and reaction will appear on the British Cycling website
Follow @BritishCycling on Twitter for updates
Follow British Cycling on Instagram