British Cycling has today named the riders who have been selected for the Great Britain Cycling Team Junior Academy programme for the coming year.
The squad is made up of 41 riders, aged from 15 to 17, and they will attend their first camp this weekend in Manchester which will commence with a rider and parent day at the National Cycling Centre on Sunday.
The riders selected represent all of the Olympic cycling disciplines, covering endurance, sprint, mountain bike and BMX with Tokyo 2020 and the 2024 Olympic Games a target for the young riders.
Performance Pathway manager Ian Yates said: "Following the success of the team in Rio, it's vitally important that we continue to produce riders that are capable of competing for the Great Britain Cycling Team – and winning medals across all of the Olympic disciplines.
"These riders have been offered membership on the Junior Academy because we believe that with hard work, effort and dedication they have the potential to develop into a world and Olympic champion in the future.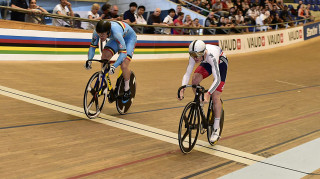 "You only have to look at the success that some of our Senior Academy riders have enjoyed at the European Championships this week to see that if the riders commit themselves to the process they will be rewarded with fantastic opportunities and win medals at senior level.
"I'm also really encouraged to see greater depth in the talent pool for BMX riders this year as we welcome eight new riders onto the junior academy - increasing the group from four to ten riders.. This is a reflection of the outstanding work that has been done across the whole of the pathway, but in particular, the work that is being done at apprentice level to prepare them.
"In addition to the juniors starting this weekend, I would also like to welcome Angus Claxton to the Senior Academy men's endurance squad. Angus joins us from Scottish Cycling's Performance Development Programme and we are really looking forward to working with him."
2016/17 Great Britain Cycling Team Junior Academy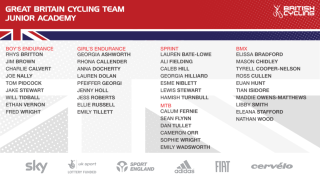 Boys endurance
Fred Wright
Rhys Britton
Jake Stewart
Joe Nally
Tom Pidcock
Charley Calvert
Will Tidball
Jim Brown
Ethan Vernon
Girls endurance
Jess Roberts
Lauren Dolan
Rhona Callander
Jenny Holl
Emily Tillett
Anna Docherty
Pfeiffer Georgi
Georgia Ashworth
Ellie Russell
Sprint
Lewis Stewart
Hamish Turnbull
Ali Fielding
Caleb Hill
Lauren Bate-Lowe
Georgia Hilleard
Esme Niblett
Mountain bike
Dan Tulett
Cameron Orr
Calum Fernie
Sean Flynn
Sophie Wright
Emily Wadsworth
BMX
Tian Isidore
Euan Hunt
Ross Cullen
Tyrell Cooper-Nelson
Mason Chidley
Nathan Wood
Maddie Owens-Matthews
Elissa Bradford
Eleana Stafford
Libby Smith