British Cycling has today named the riders who have been selected for the Senior Academy programme for the coming year.
The squad comprises of 29 riders, including 14 riders who are either new to the programme or have graduated from the Junior Academy, representing all of the Olympic cycling disciplines with Tokyo 2020 a firm target for the young squad.
The senior academy riders will begin their Manchester-based boot camp on 3 October where they will have sessions covering a range of off-the bike subjects, such as anti-doping, nutrition, social media, bike cleaning and health and hygiene, to aid with their development in becoming a world class bike rider.
Following the intensive week long boot camp, the riders will resume their training programmes for the winter period.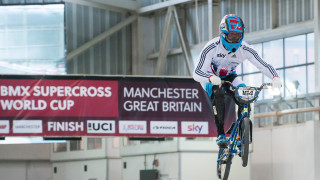 Performance Pathway manager Ian Yates said: "With yet another successful Olympic Games behind us, the performance focus has switched to Tokyo 2020 and within this Senior Academy squad I believe we have some real potential to maintain our Olympic success across the board for the next couple of cycles.
"Our primary aim is to turn these talented young athletes into race winners but we recognize that this involves giving them opportunities to develop off the bike too. We introduced the 'boot camp' idea a couple of years ago and it's been a great way for the riders to bond with their team mates whilst also learning invaluable skills and we cover everything from health and hygiene to public speaking skills in these sessions. It's about readying them for the year ahead as the jump to becoming a full-time athlete is a big step. We also strive to provide these learning opportunities at other points throughout the year too, so all our riders will get the opportunity to undertake their coaching awards and learn a new language that might help them when living and racing abroad.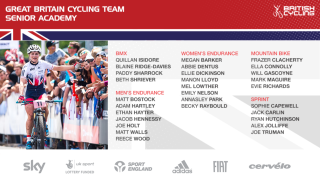 "As we've experienced over the past couple of years, the level of competition is increasing annually due to the good work happening throughout the pathway. It left us with some very tough decisions. Ultimately though, we are confident the squad we have selected contain the stars of the future and I'm looking forward to supporting them on the Senior Academy stage of their journey.
"I'm pleased to see six senior academy riders graduate onto the podium programme and wish Danni Khan, Emily Kay, Oliver Wood, Mark Stewart, Ryan Owens and Alice Barnes good luck on their step up to elite level."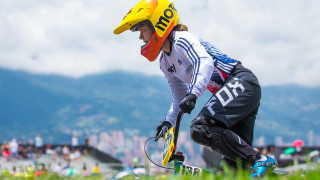 Senior Academy:
BMX
Quillan Isidore
Blaine Ridge-Davies
Paddy Sharrock
Beth Shriever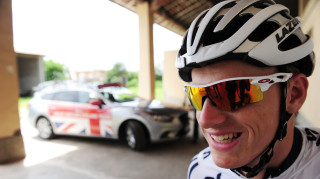 Men's Endurance
Matt Bostock
Adam Hartley
Ethan Hayter
Jacob Hennessy
Joe Holt
Matt Walls
Reece Wood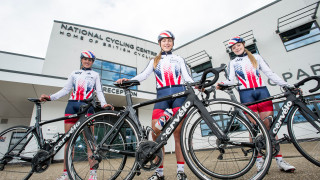 Women's Endurance
Megan Barker
Abbie Dentus
Ellie Dickinson
Manon Lloyd
Mel Lowther
Emily Nelson
Annasley Park
Becky Raybould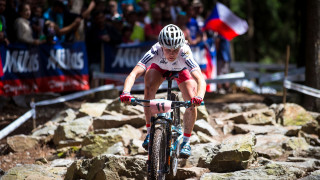 Mountain Bike
Frazer Clacherty
Ella Conolly
Will Gascoyne
Mark Maguire
Evie Richards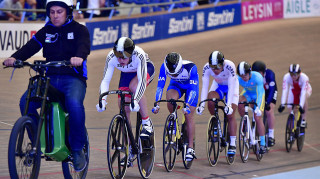 Sprint
Sophie Capewell
Jack Carlin
Ryan Hutchinson
Alex Jolliffe
Joe Truman
The full Great Britain Cycling Team squad and the Junior Academy squad for 2016/17 will be announced in due course.