Hand-cyclist Karen Darke was involved in one of the great moments of the London 2012 Paralympic Games when she and hand-cycling teammate Rachel Morris crossed the line holding hands in the road race, rather than competing for the bronze medal.
Unfortunately, the show of team unity was not rewarded and it was Morris who was awarded the bronze, while Darke claimed the silver medal in the time trial.
Four years on and the intrepid athlete, who is paralysed from the chest down, has been grabbing headlines once again.
"It's been a really hard four years actually for me, in some ways," said Darke.
"I got hit by a car in 2013 and so I had a year when I wasn't sure whether I'd be able to cycle again, my right arm didn't work for a while I lost sensation and movement in it, so 2013 I lost a season and that was a tough year."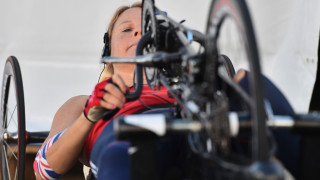 After a period of recovery, the adventure-junkie, in her usual fashion, returned to the bike in 2014 and hit the road once more.
"2014 was a great year; I did a trip that I'd wanted to do for years and cycled from Lhasa in Tibet, down across the Himalayas into Nepal.
"That was just really special, an incredible place."
Thanks @TheRealBerghaus. Amazing 'Ride of Our Lives ' across Tibet. Hard to leave it behind :) pic.twitter.com/6KlgMwxxh6

— Karen Darke (@kdarke) October 15, 2014
Darke is no stranger to incredible places; her other trips have included climbing El Capitan in Yosemite National Park and hand-biking across Cuba in 2015. But now, she says, it's business time.
"Since Nepal it's been head down really, just focussed on Rio and training really hard.
"I went back to my old coach this last year, John Hampshire, the coach that I had for London so that's gone really well.
"I'm loving it; hopefully we can do it all justice when we get out to the Games."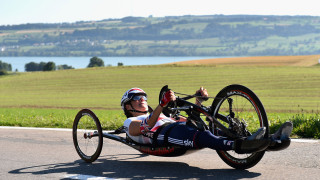 The time trial silver medal in London came as a pleasant surprise for Darke, but this time she is hoping for more in Rio.
"My hope is to upgrade my medal colour to a gold in the time trial, that's really my aim," she said.
"I believe I can do it; I have won a world cup on a flat course similar to Rio before and on recent flat courses I've regularly been second by just a matter of seconds.
"It's definitely doable! For London it was just a surprise to win a silver; for me it was all just about getting there and then when I realised I had a serious medal possibility it was hard to believe that I could so this time it's just about the belief that it's possible to do it."
Darke will be the only rider representing ParalaympicsGB on a hand-bike; one of the four Paralympic bike categories on the road.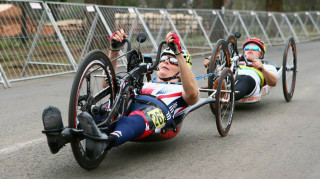 "My event is hand-cycling – and the hand-cycle, I've heard it called a mobile sunbed on wheels – basically you're just laid down, really horizontally, you're almost is a fully horizontal position and then you pedal with your arms out in front of you," she said.
"I'm paralysed from the chest down so I get a lot of my power by pushing between my shoulder blades or pushing even with my head so you get more power when you use both arms together.
"Some races kind of set off steady and build up but the hand-bike race just goes like a rocket from the start line so I tend to struggle at the very start of a race because I'm not the greatest sprinter in the world but usually I manage to get on the back eventually!"
"I'm certainly training hard and we'll see what happens."
Keep up with Karen
Women's H1-2-3 time trial - 12pm: Wednesday 14 September
Women's H1-2-3-4 road race - 4.40pm: Thursday 15 September