Sir Bradley Wiggins, Owain Doull, Ed Clancy and Steven Burke won Olympic gold with a sensational performance in the team pursuit final.
The Team GB four beat Australia, setting a new world record on the way to retaining their Olympic crown – the second time they had posted the fastest time in history of the day.
There were also Olympic records in the men's sprint, set first by Callum Skinner, then by Jason Kenny as both British riders made it through to tomorrow's latter stages.
Men's team pursuit
Sir Bradley Wiggins, Owain Doull, Ed Clancy and Steven Burke had said they were only targeting gold in Rio – Wiggins said in the aftermath of defeat in the world championships team pursuit final earlier this year he would bet his house on Team GB becoming Olympic champions.
They posted a blistering time in Thursday's qualifiers – and once again showed they meant business in round one on Friday.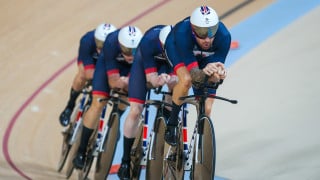 Riding in a measured, controlled fashion throughout – they were never in danger of losing the heat – but it was the time that sent shockwaves through the cycling world, a new world record of 3:50.570.
That meant that the gold medal final would be contested between the same two nations as had faced each other in London four years ago, Great Britain and Australia.
The Australians hadn't looked their usual selves in round one, narrowly beating Denmark, but they started the final in a determined fashion, edging out more than a half-second lead within the first kilometre.
The effort took its toll though, with Australia losing a rider before the 3km mark – as Great Britain rode to their schedule, eating into the green and gold team's lead.
It wasn't until the final 500m that Team GB got the lead, and Britain crossed the line first, in 3:50.265 – another world record and a third successive team pursuit Olympic title.
And Sir Bradley Wiggins becomes the most decorated British Olympian of all time!#Rio2016 pic.twitter.com/ujQ4dfMr7l

— British Cycling (@BritishCycling) August 12, 2016
That medal meant that Sir Bradley Wiggins became the most decorated British Olympian of all time – the first ever Team GB athlete to win eight Olympic medals.
After the race, he told BBC Sport: "It's hard not to come off the track and spout a load of cliches but really, the last 12 months we have done everything together.
"Training camps at altitude, early starts and late finishes. Cycling on Christmas Day. It was all for this and we've done it. These three guys here are amazing.
"When you have guys like that it makes your life easier. I was trying not to think about winning but these guys have been bouncing off the ceiling all afternoon. It was fantastic."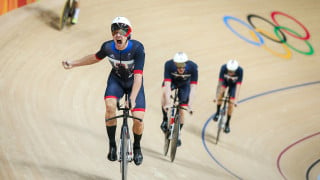 It was a first Olympic medal for Owain Doull, who looked like he couldn't quite believe his achievement.
"It's surreal. To pull it off now is unbelievable."
Steven Burke became a two-time Olympic champion and said it was an even better achievement than in 2012.
"I really wanted to defend the title. It all came together at the right time. We've got the best team ever."
Meanwhile for Ed Clancy, his hopes of an Olympic place seemed to be fading following a back injury in the last year – his third Olympic gold meant the world to him.
"This is the best gold of them all. If truth be told we haven't won a fat deal between London and now. We had some big downs and crossing the line there has made every single pedal rev and every training session worthwhile.
"We've been through the mill a bit. The medical team have put 1000 man hours into my back to get me here."
Gallery
Men's sprint
After winning the men's team sprint yesterday in a new Olympic record time, it was a confident-looking pair of British riders that took to the track to begin their pursuit of medals in the individual event.
Callum Skinner was the 16thrider to take to the track in the qualifying round and set a blistering new Olympic record on his flying lap; a time of 9.703.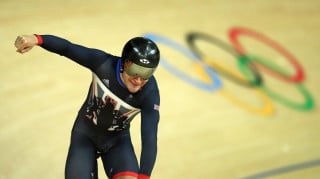 Jason Kenny, as the current holder of the world and Olympic title in the men's team sprint, rode the qualifying lap and he too set a new Olympic record in a time of 9.551.
Kenny and Skinner progressed to the first round as the top two ranked riders in the competition, giving themselves the best possible route through to the final rounds.
Kenny, the defending champion was up first in the 1/16 finals and tailed Germany's Maximilian Levy around the three laps of the track and powered past him around the final bend and into the 1/8 finals.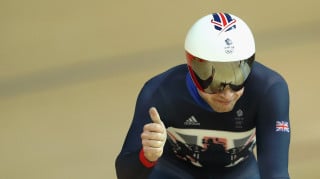 Skinner rode in heat two against Australian rider Patrick Constable. Skinner drew the inside starting position but used his strength to stay ahead, crossing the line nearly a full bike length ahead, capping off an excellent two day at his maiden Olympics.
Skinner will face Constable again in the 1/8 finals while Kenny has been drawn against Fabian Hernando Puerta Zapata.
Elsewhere and in the women's team sprint, China beat Russia to win the gold, after claiming a world record in the first round.
Results