Great Britain Cycling Team started the 2016 UEC Track Juniors and U23 European Championships with four medals on the opening day – including a stunning gold medal in the junior men's team pursuit.
The quartet of Ethan Hayter, Matthew Walls, Reece Wood and Fred Wright broke the British junior record, held by Owain Doull, Simon Yates, Dan McLay and Sam Harrison to take the European title.
Over the moon to win the @UEC_cycling european team pursuit championships and to get a new national record of 4:04.142 @BritishCycling

— Reece Wood (@reece_wood98) July 12, 2016
There were also bronze medals for the junior women's team pursuit squad and both junior men's and junior women's team sprint line-ups.
Gold
After dominating qualifying in Montichiari, Hayter, Walls, Wood and Wright knew they were guaranteed a medal in the team pursuit final – but they weren't prepared to accept anything other than gold.
So good to win euros with the team! Took the national record with it too https://t.co/9W5eFlZYQy

— Ethan Hayter (@ethan_hayter) July 12, 2016
They beat the young Polish quartet, setting a time of 4:04.142, to claim Great Britain Cycling Team's first gold medal of the week.
After the race, Reece Wood said it was an incredible feeling:
"Overwhelming! The biggest event I've ever been to and it's great to come out with gold."
His team-mate Ethan Hayter said they were proud of their performance:
"We put in two controlled rides and finished both of them feeling pretty good in general."
Moments earlier, the junior women's team pursuit line-up of Eleanor Dickinson, Lauren Dolan, Rebecca Raybould and Jessica Roberts also overcame their Polish counterparts to win bronze in 4:39.350 with Italy taking gold in a junior world record of 4:29.234.
Sprint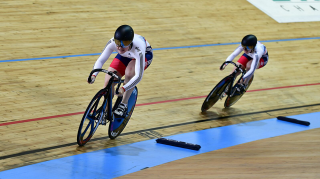 There was further success for Great Britain Cycling Team's young sprinters – with two more bronze medals. Lauren Bate-Lowe and Sophie Capewell beat the Czech pairing in their ride for third place.
Super happy with a bronze medal today in the team sprint! Bring on worlds!!! @SophieECapewell pic.twitter.com/pRKwBwwCAV
— Lauren Bate-Lowe (@LaurenBateLowe) July 12, 2016
Sophie Capewell said they were thrilled to win bronze:
"Amazing! It's been a tough year this year with exams and things like that. It just feels amazing!"
Her team-mate Lauren Bate-Lowe added:
"Everything's come together nicely. The whole year has worked out and it's just really nice to get some credit for everything we've worked for.
"Of course, there's things gone on throughout the year that have been tough, but at the end of the day, to be here with a bronze medal is an amazing feeling."
In the junior men's race, Alexander Joliffe, Lewis Stewart and Hamish Turnbull beat Germany in a time of 46.838 to take bronze, with the gold going to Russia.
Fresh from her team pursuit bronze, Eleanor Dickinson just missed out on a second medal of the day, finishing fourth in the scratch race with Letizia Paternoster of Italy taking gold. In the men's scratch, Rhys Britton took sixth as Jules Hesters of Belgium won gold.
There were also two under-23 events on the opening day as the men and women competed in the individual pursuit.
Matt Gibson best performed for the men taking 10th place, with Joey Walker in 19th with Filippo Ganna of Italy winning gold. In the women's race, Hayley Jones finished 14th, with Megan Barker 17th as Poland's Justyna Kaczkowska took gold.
Gallery
Results
Follow our #RiderRoute blog from three of our junior riders here.