Mountain biking is the perfect mix of adventure and adrenaline.
About
Olympic mountain biking is contested under the cross-country format with riders challenged by steep climbs, fast descents and natural obstacles in this multiple lap race.
Courses comprise of narrow stone, grass and dirt trails, with steep uphill and downhill sections that demand riders navigate obstacles such as rocks and logs.
Circuits are typically around 5km long with men completing more laps than the women.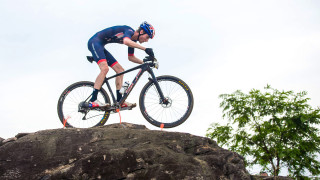 Format
The mountain bike events are mass-start races, with riders seeded into the starting grid according to their current UCI ranking. Riders complete one start loop, plus a specified number of laps of the course. The first rider across the line is the winner.
The number of laps can be changed up to two hours before the start of each race – track and weather conditions are taken into consideration in order to produce a winning time of approximately 1h30 to 1h45.
Venue
Organisers of the 2020 Olympics in Tokyo scrapped plans to build a purpose-built, 25,000 capacity mountain bike course on the man-made Sea Forest island in Tokyo Bay as part of cost-cutting measures. Track cycling will now be held at the Izu Mountain Bike Course, 120km to the south-west of Tokyo, adjacent to the Izu Velodrome and with the iconic Mount Fuji as a backdrop.
When
Mountain biking at the 2020 Olympic Games in Tokyo is currently scheduled to take place on Saturday 8 August (women's race) and Sunday 9 August (men's race).
With Tokyo eight hours ahead of British Summer Time, it is believed that races will take place at around 8am-10am (women's race) and 7.30am-9.30am (men's race) for UK audiences.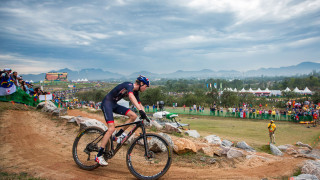 Facts
Cross-country mountain biking made its Olympic debut in the 1996 Games in Atlanta, Georgia.
Great Britain has never won a mountain bike Olympic medal – the best performance in the men's event came in 2004 as Liam Killeen finished fifth. In Rio, Grant Ferguson finished 17th on his Olympic debut in his first year racing at an elite level.
Annie Last finished eighth for Great Britain in her home Games in London in 2012
The reigning men's Olympic champion is Swiss rider Nino Schurter, with Czech Republic's Jaroslav Kulhavy taking silver, in a reverse of the finish in London four years earlier. France's Julien Absalon is the only two-time men's mountain bike Olympic champion.
Sweden's Jenny Rissveds took the women's title in 2016. Italy's Paola Pezzo was the first ever women's mountain bike champion and defended the title she won in Atlanta four years later in Sydney. She remains the only two-time women's mountain bike Olympic champion.