The road time trial pits the world's fastest para-cyclists against the clock.
About
Riding solo or in tandem pairs, riders will take to the road one-by-one with the fastest time across the course winning the gold medal.
Riders leave the start ramp individually, at regular intervals.
Classification
The road race is open to riders in 'B', 'C', 'H' and 'T' categories.
'B' riders are athletes who have visual impairments and ride tandem bicycles with a pilot. There will be both a men's and a women's 'B' time trials.
'C' riders are those with locomotion impairments who can ride a bicycle. Riders within the 'C' group will be placed into one of five categories, with C1 indicating the greatest degree of impairment and C5 the least.
There will be eight 'C' time trials in Rio - C1 men, C2 men, C3 men, C4 men and C5 men, as well as C1-3 women, C4 women and C5 women. The C1-3 time trial is a factored event, where riders absolute times are re-calculated subject to individual classifications, with the factored time going forward as the race result for an athlete.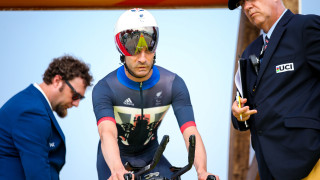 'T' events are tricycle races, open for those athletes who have a neurological condition or an impairment which has a comparable effect on their ability to ride a bicycle, for reasons of balance. Riders are placed into one of two categories, with T1 indicating the greatest degree of impairment. There are two 'T' time trial - a men's and a women's race, both for T1 and T2 riders, as factored events.
'H' riders will compete on handcycles – these events are for those riders with impairments affecting either both legs or a combination of the upper and lower limbs.
Riders are placed into one of five categories, with H1 indicating the greatest degree of impairment and H5 the least. H1-4 cyclists will compete in a lying position whereas H5 cyclists compete in a kneeling position.
There are six 'H' time trials – men's H2, men's H3, men's H4, men's H5, women's H1-3 and women's H3-4. The women's races are factored.
Venue
The road races for the 2020 Paralympic Games in Tokyo are expected to start and finish at the Imperial Palace Garden in the Heritage Zone in the city. A temporary facility to host around 1,000 spectators is expected to be built.
When
Road races at the 2020 Paralympic Games in Tokyo are currently scheduled to take place on Wednesday 2 September.
With Tokyo eight hours ahead of British Summer Time, it is believed that races will take place between around 4am-12pm for UK audiences.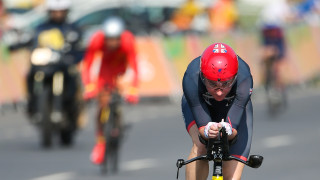 Facts
The Tokyo Paralympics will be the tenth Games that has hosted road cycling events, but there have only been six British winners in the time trial.
Dame Sarah Storey took gold in the LC1-2/CP 4 time trial in Beijing, followed by C5 gold in London and Rio, with Rachel Morris also winning gold in China in the HC A/B/C time trial. David Stone also celebrated in 2008 with gold in the CP1-2 mixed time trial.
Tandem duo Steve Bate and Adam Duggleby also won gold in Brazil in the B time trial, while Karen Darke became Paralympic champion in the H1-3 event, four years after winning silver.
David Stone won bronze in the T1-2 time trial in Rio, the second Games in a row that he had taken third place in the event. The tandem duo of Lora Turnham and Corinne Hall also won bronze in the B time trial.
In London, Rachel Morris won bronze in the H1-3 time tria and Mark Colbourne won silver in the C1 race.
In 2008, Simon Richardson (LC3) and Darren Kenny (CP3) both won silver, with Kenny also coming second in Athens four years earlier in the combined road race and time trial.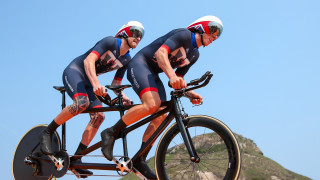 The reigning male Paralympic time trial champions are Italy's Luca Mazzone (H2) and Vittorio Podesta (H3), Poland's Rafal Wilk (H4) and former Formula One driver Alessandro Zanardi (H5) of Italy alongside Germany's Michael Teuber (C1), Tristen Chernove (C2) of Canada, Eoghan Clifford (C3) of Ireland, Slovakia's Jozef Metelka (C4), Ukraine's Yegor Dementyev (C5) and Germany's Hans-Peter Durst (T1-2).
The female gold medal winners in the time trial in Brazil were Ireland's Katie George Dunlevy (B) and pilot Eve McCrystal, Germany's Dorothee Vieth (H4-5), Alyda Norbruis (C1-3) of the Netherlands, USA's Shawn Morelli (C4) and Australia's Carol Cooke (T1-2).