"I feel a lot more relaxed about it this year than I did last year. I'm just looking forward to getting out there."
The 2014 and 2015 UCI BMX Supercross World Cup champion is back. After missing the opening round of the 2016 world cup season in Santiago del Estero, Liam Phillips will be in Great Britain Cycling Team colours again this weekend at the National Cycling Centre.
The 2013 world champion has won three years in a row in Manchester - and admits his impressive home record gives him mixed feelings.
"In some respects, it adds more pressure because I've won here every year.
"On the other token, I feel like I've got nothing to prove, because I've proven my worth. Not only here, but with my performances last year, I proved that I can compete against the world's best away from here.
He's back! @LiamPHILLIPS65 returns to @BMXSuperX, but is there pressure to get 4 Manchester wins in a row? #UCIBMXWChttps://t.co/9l1fTnCMEJ

— British Cycling (@BritishCycling) April 7, 2016
"Of course there's pressure (though). There's a couple of thousand people that come to watch and to have a home winner is great for everybody."
The 27-year-old's decision not to race in Argentina last month was not an easy one and came as a result of a South American training block on the tracks for next month's world championships in Colombia and the Olympic Games in Rio in August.
"I really wanted to go there and get everything out of that opportunity. I didn't want to feel like I had to watch how much volume I was doing.
"I just wanted to be able to go there and do everything that was required to go to those events and perform at my best. It was a difficult decision because I love racing. I feel like hopefully it will pay dividends."
Phillips' chances of making it four Manchester wins in a row may prove tougher in 2016. The BMX track at the National Cycling Centre has undergone changes over winter designed to push the team on to the next level.
As well as boosting training, Phillips thinks it will make for a brilliant event.
"The track, from my perspective, it's super super challenging. Every day that we work here, you have to be so precise.
"The last straight has changed, it's certainly more difficult, but for me, it's so fun and I know that we'll have guys from other nations come in and ride the track and they'll love riding it.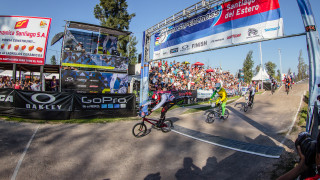 "I think that at the end of a lap it's quite tough to do the preferred line but it'll make for great racing."
For Phillips, this is the first major test of 2016 with both the world championships and Olympic Games around the corner.
But thoughts of rainbow jerseys and Rio gold are on the back burner for now - focus is strictly on the weekend's racing in Manchester.
"My performances over the last few years have certainly suggested that I'll be in a position going into Rio to fight for the gold. That's my aim, it's something I continue to work hard for.
"It's a difficult one because I don't really like to get carried away and look too far into the future, I've got a race here.
"I love what I do and I continue to work hard and try and put myself in the best position possible to be successful.
"I've done some really good work over the winter and feel prepared. I'm ready to race."