British Cycling has named the Great Britain Cycling Team for the opening round of the 2016 UCI BMX Supercross World Cup in Santiago del Estero, Argentina from 25-26 March.
Kyle Evans and Tre Whyte will race in South America, with defending series champion Liam Phillips also making the trip, but focussing on a training block which will see him start his world cup season in Manchester on 9-10 April.
British Cycling Olympic BMX coach, Grant White, said: "We are excited to head to Argentina to begin our UCI BMX Supercross World Cup in this important Olympic year.
"The event will give Kyle and Tre a good opportunity to test themselves against world-class opposition."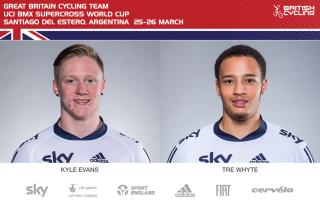 Evans, 22, has secured top-20 finishes in the series for the last two years while Whyte won bronze at the 2014 UCI BMX World Championships in Rotterdam.
The five-round world cup series also visits Papendal (Netherlands) in May before trips to Rock Hill and Saratosa (USA) after the Rio Olympic Games.
Rio training
As part of the trip, Phillips, Evans and Whyte will also have the chance to ride at the Olympic BMX Centre in Rio de Janeiro - from the 17-19 March - when an open training session takes place.
White added: "This is a valuable chance to spend some time on the Olympic course ahead of August and will allow the riders to get familiar with the demands of the track."
BMX at the Rio Olympic Games takes place from 17-19 August with the qualification window closing on 30 May 2016.
UCI BMX Supercross World Cup - Manchester
Watch the Great Britain Cycling Team in action at round two of the UCI BMX Supercross World Cup at the National Cycling Centre in Manchester on 9-10 April.