British Cycling has announced the team of 17 riders who will represent Great Britain at the forthcoming UCI Cyclo-cross World Championships, taking place in Zolder, Belgium from 30-31 January 2016.
The squad includes recently crowned elite national champions Nikki Harris and Liam Killeen along with experienced cyclo-cross riders Helen Wyman and Ian Field, both of whom go into the championships event having had a strong season.
They are joined by under-23 women's national champions Evie Richards and junior men's national champion Mark Donovan.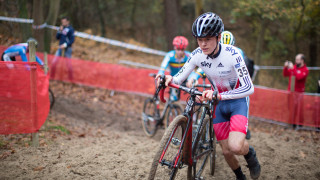 Iain Dyer, head coach for the Great Britain Cycling Team said: "I'm looking forward to seeing how the team we've selected for the UCI Cyclo-Cross World Championships performs this year, particularly on the women's side with Nikki Harris recording her first ever world cup victory in Namur and also with her and Helen consistently scoring top- ten results on the world cup scene.
"Over on the men's side, it'll be great to see Liam Killeen riding in Great Britain colours again following his retirement from the mountain bike squad in 2013.
"It's also good to see a number of Olympic academy riders have made selection, as well as being there on merit for their cyclo-cross skills and as potential podium contenders, all experience at world level will serve to aid their development as world-class bike riders."
Great Britain Cycling Team for 2016 UCI Cyclo-cross World Championships

Elite men
Jack Clarkson
David Fletcher
Ian Field
Liam Killeen
Elite women
Nikki Harris
Helen Wyman
Under-23 men
Nick Barnes
Under-23 women
Alice Barnes
Beth Crumpton
Ffion James
Hannah Payton
Evie Richards
Junior men
Mark Donovan
Will Gascoigne
Tom Pidcock
Daniel Tulett
Ben Turner