Great Britain Cycling Team's Hayley Simmonds produced an impressive UCI Road World Championships debut, finishing 26th in a thrilling elite women's time trial in Richmond on Tuesday.
New Zealand's Linda Villumsen took the rainbow jersey after home rider Kristin Armstrong looked set to take her third world title, the American throwing down a stunning early marker.
"I would have liked to have done a bit better but I couldn't have got anything else out today and it was a massive learning experience for me coming here," said Simmonds.
"It was really tough actually," she continued. "The wind over the bridge was really hard coming back so it felt fast over the James (river) and then as soon as you came up the chicane and back onto the bridge it was brutal headwind so that was a really tough slog."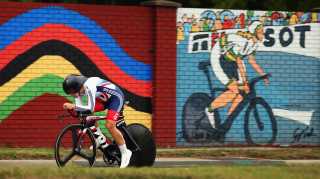 Armstrong set her impressive time early on. The 42-year-old two-time world and Olympic time trial champion was the second rider to leave the Richmond start ramp and went on to stop the clock on 40:50.45, beginning what promised to be a long stretch in the hot-seat.
Of the earlier starters Germany's Trixi Worrack and Canada's Tara Whitten came closest to the American's well-paced effort, both fading on the second lap, Worrack the only rider getting within a minute of the American as it stood.
Armstrong was still in the hot-seat as Simmonds took to the course for Great Britain, the 27-year-old British time trial champion charging through the first check 29 seconds behind the American, with the wind gathering across the city-centre course.
As Simmonds ploughed on, 2013 world champion Ellen van Dijk (Netherlands) moved into second place, 33 seconds down on Armstrong. At the end of the first of two laps, Simmonds was one minute and 12 seconds down on the leader and on course for a strong world championships debut.
Through the final check and Simmonds was an impressive seventh on the road, one minute and 45 seconds down on Armstrong, whose early benchmark was looking more and more impressive.
Simmonds crossed the line in eighth place, her time of 43:24.28 two minutes and 33 seconds behind Armstrong. But with top-seeded riders still to come, Simmonds' time began to slip down the leader board.
Villumsen, twice a silver medallist, went fastest through the first split and crossed the line to start her second lap still ahead of Armstrong. The kiwi was still fastest at the third split and carried on building, eventually deposing the American by over 20 seconds.
Australian Katrin Garfoot slotted into second, only to be deposed by Dutch rider, Anna van der Breggen before 2014 world champion Lisa Brennauer of Germany brought the competition to a dramatic close, snatching bronze from the Australian.
Would have loved to place higher but there are things to work on for future races. Now to recover to do a job for the team on Saturday

— Hayley Simmonds (@hayleyrsimmonds) September 22, 2015
The action at the head of affairs eventually pushed Simmonds into 26th place, an experience that the British champion hopes to build upon in years to come.
"I'm not really used to being looked after quite so much so I was almost going to get my own stuff ready and then it's 'no, no, no, its fine, we'll do it for you,'" said Simmonds, relishing her first taste as part of the Great Britain Cycling Team setup.
"Hopefully I'll get the chance to come back and build on it now that know what it's like," added Simmonds, who will recover to ride the elite women's road race on Saturday.
Results