Great Britain Cycling Team's Rachel Atherton delivered a masterclass to win a third downhill mountain bike world title as Laurie Greenland collected the junior men's rainbow jersey.
Atherton edged out compatriot and defending champion Manon Carpenter in a one-two as the Great Britain Cycling Team flourished in Vallnord, Andorra.
Josh Bryceland added bronze in the elite men's event to complete a four-medal haul on the final day of the 2015 UCI Mountain Bike World Championships.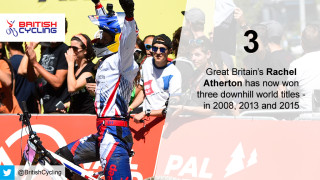 "I can't believe it really, I'm pretty happy," Atherton said.
"I knew it was going to be hard today and the track is just crazy - so dry now compared to earlier in the week. It's fast, you have to hang on."
The 27-year-old completes a dominant season in which she also won the UCI Mountain Bike World Cup title after winning six of the seven rounds.
"It's what I wanted this year, to have both titles back. I'm pretty stoked to be honest."
Gallery
Atherton, who had won rainbow jerseys in 2008 and 2013, crossed the line in 5:08.488 in a pulsating contest, just over three seconds quicker than Carpenter.
Tahnee Seagrave, bronze medallist last year, was fifth after a crash ended her hopes of a podium place despite an excellent start to her run.
Golden Greenland
Eighteen-year-old Greenland went one better than the silver he won in the junior men's competition in Norway last year with a seamless ride to complete a superlative double, having won the junior men's UCI Mountain Bike Downhill World Cup crown.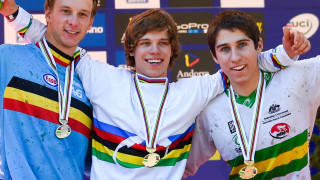 The last rider out, Greenland was second at the first time split but at the next intermediate had set the fastest time by just two-tenths of a second.
He extended his lead in the final sector to win in 4:32.83, over three seconds quicker than Belgian Martin Maes.
Bronze for Bryceland
Josh Bryceland collected bronze in a dramatic men's event that saw Britain's defending champion Gee Atherton crash in the opening section of the race to end his hopes of a defence.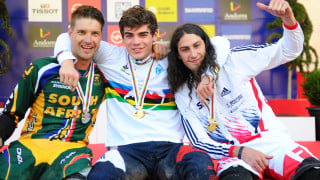 Bryceland, who took silver last year behind Atherton, completed his run in 4:24.361 as France's Loic Bruni won his first major international event in 4:19.585.
South Africa's Greg Minnar won silver while Briton Michael Jones was excellent to take fourth place.
Results
Elite men's downhill
Elite women's downhill
Junior men's downhill