Great Britain Cycling Team's Grant Ferguson fought superbly to claim a bronze medal in the under-23 men's cross-country race at the UCI Mountain Bike World Championships in Andorra.
Rain and fog in Vallnord made for challenging conditions but the 21-year-old Scot was not fazed as he finished 22 seconds behind New Zealand's Anton Cooper with France's Victor Koretzky second.
Ferguson's success is a second medal of the championships for Great Britain after Evie Richards took silver in the junior women's race on Thursday.
Gallery
"I guess I was hoping it would come back in the last couple of laps and I could be competitive at the end but they were just kicking up the hills really fast and I'd been on the limit a few times," Ferguson said.
"I was trying to be patient but they were smashing it so big respect. I can be happy with a medal but it was quite a close race I guess.
"When it is quite close you always think 'if I could have been at the front it might have been slightly different' but that's the way it goes sometimes."
Gridded in first, a slow start saw Ferguson back in third after the opening 4.2-kilometre lap of five, reduced from six due to the weather conditions.
By the end of lap two he had joined Cooper and Koretzky at the front of the race but the duo pulled away leaving Ferguson isolated at the halfway mark with New Zealand's Sam Gaze chasing behind.
Ferguson, who won his first UCI Mountain Bike World Cup race in Val di Sole, cut the gap down to 13 seconds heading into the final lap but could not bring the leading duo back.
Starting in 61st, Iain Paton worked his way through the race well to finish in 49th position.
Under-23 women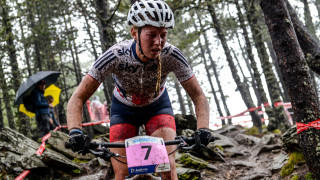 In the under-23 women's race, Alice Barnes suffered an asthma attack on the second lap of five which ended her race.
The 20-year-old, who took her first world cup podium in Mont-Sainte-Anne in August, had started the race brightly and completed the first lap in sixth position before her race was cut short.
Results
Under-23 men cross-country
Under-23 women cross-country