Great Britain Cycling Team head to round three of the 2015 UCI BMX Supercross World Cup with five athletes set to race at Angelholm in Sweden on 15-16 August.
Coming just three weeks after the UCI BMX World Championships in Zolder, Belgium, Europe will again welcome the elite of world BMX.
Liam Phillips, Kyle Evans, Quillan Isidore, Tre Whyte and Charlotte Green will all chase Rio Olympic qualifying points for Great Britain in the five-stop series.
The team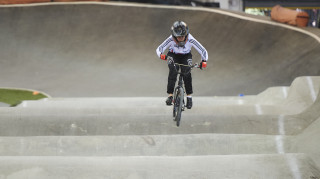 After the high of winning the opening round in Manchester, Liam Phillips was knocked out in the quarter-finals at round two in Papendal on an underwhelming afternoon for the 26-year-old.
Sitting in fourth overall though, Phillips is still in contention to defend the title he won in 2014 and was in fine form at the BMX world championships.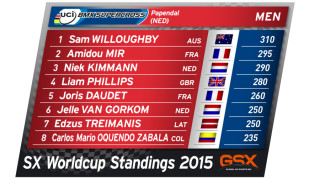 A bad start in the final on a rain-swept day undermined a strong day of racing and cost the 2013 world champion as he finished fifth.
Kyle Evans reached the quarter-finals in Belgium and will want to make his first main of the season having missed out in Manchester and Papendal.
The 21-year-old managed the feat in Manchester and Berlin during the 2014 season.
Tre Whyte continues his comeback from the injury sustained in Papendal back in May. Whyte exited in the 1/8 finals in Zolder as did 19-year-old Quillan Isidore.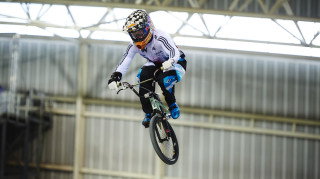 A challenging afternoon at Papendal saw Isidore knocked out in the motos and the Peckham-born athlete is seeking to reach the knockout stages for the first time at world cup level.
Charlotte Green impressed to reach the women's semi-finals at the world championships and a similar result for the 21-year-old in Sweden would be welcome after a difficult start to the season.
The competition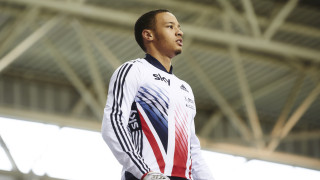 Newly-crowned world champions Niek Kimmann of the Netherlands and Stefany Hernandez of Venezuela will ride in their rainbow stripes in the supercross racing while series leader Mariana Pajon and Joris Daudet can do the same in Saturday's time trials.
The addition of Australians Sam Willoughby and Caroline Buchanan plus Maris Strombergs, Connor Fields, Jelle van Gorkom, Alise Post, Sarah Walker and Laura Smulders augments an outstanding field.
The venue
Designed by Tom Ritzenthaler and built by Elit trax in 2013, the outdoor track hosted rounds seven and eight of the UEC BMX European League in 2013.
This weekend's event will be the first time the UCI BMX Supercross World Cup has visited the venue.
How to follow the racing