Great Britain Cycling Team's Hannah Dines is delighted to represent her country at the UCI Para-cycling Road World Championships, which take place in Nottwil, Switzerland from 29 July to 2 August.
Dines, who rides in the T2 trike class, is one a number of world championships debutants to be selected among the 10-strong team after impressive performances throughout the road season.
"I am really delighted, I'm so lucky to be picked," said the 22-year-old from Glasgow. "It's a really small squad so it's fantastic that I get the opportunity to race against the best trike riders in the world.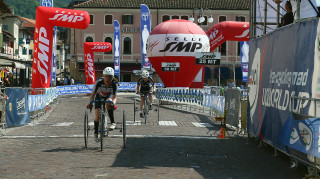 Dines showed her world championships potential at the first round of the UCI Para-cycling Road World Cup in Maniago, Italy, in early June, winning silver in the time-trial and bronze in the road race.
"Maniago was a really good learning experience for me," said Dines. "It was the second time I'd raced internationally with more competition. It really showed me where I was in the bunch and what my skills were and what the personalities of my competitors were.
"If I hadn't had that I would not be ready for the world championships."
For Dines it was her first major international sortie with the Great Britain Cycling Team, having only made the transition from race running to cycling in 2013.
"I got into trike racing through a British Cycling talent day," said Dines. "But I really got into sport through race running, which is an athletic discipline in which you compete on frames that help you run, so I got fit through that.
"Then I went down to England where they trialled me on a trike and the rest is history."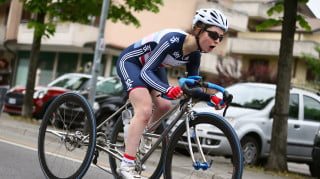 Dines' Maniago experience really opened her eyes to her capabilities, helped by the holistic support she received from the tight-knit team behind the scenes.
"You just get completely facilitated to do your best performance. You don't have to think about anything except moving your legs," she said.
"I was really lucky to get taken and get supported completely and I really think my performance was because of that.
"If I hadn't been supported in the same way I wouldn't have done so well."
Dines however isn't letting the occasion go to her head, at once realistic and optimistic regarding her performance goals for Nottwil.
"I'm just hoping to stick with the bunch and be part of things for as long as I can," she said.
"And to give them a run for their money - I'm not going to let them win easily!"
Hannah Dines races in the T2 time trial on Thursday and the road race, which takes place on Saturday.
How to follow the racing
Reports, results, reaction and images will appear on the British Cycling website
Follow @BritishCycling on Twitter for updates throughout the championships