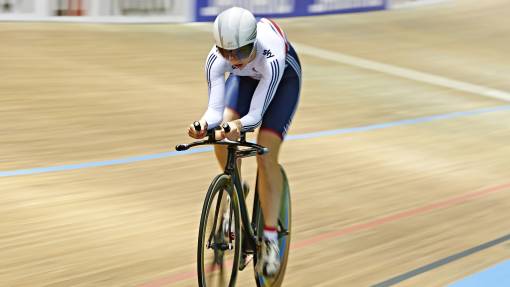 Olympic champion Joanna Rowsell says she is ready to make a winning return at the UCI Track Cycling World Cup in London.
The 25-year-old withdrew from the Great Britain Cycling Team squad which travelled to Guadalajara, Mexico last month to concentrate on reconditioning for the second round of the series at the Lee Valley Velopark.
Rowsell will revisit a track where she rode to gold three times in 2012 - twice in the world cup and once in the Olympics.
And she feels she is well prepared to succeed and build momentum ahead of February's world championships in Paris.
"I have had two weeks in Majorca, which were brilliant, my form has come on massively," said Rowsell.
"I had a break after the Commonwealths, tried some different training out which didn't really work for me.
"It worked well for some of the other girls but I just dipped so stopped and did what worked for me. It's not that I'm not willing to try new training, but at my age I've done it for enough years to know what works.
"It's good to try out new things and say 'let's go back to what we know works'. So I went to Majorca and had a good two weeks, all of my power outputs are coming back to what I'd expect and I feel a lot better on the track, so I'm in the right direction now."
Rowsell has already won individual and team pursuit titles at the world championships in 2014, as well as individual pursuit gold at the Commonwealth Games. Recently she added team pursuit triumphs at the European and British championships.
"If I wanted to have a bad competition this year, the Euros and the nationals were the ones to have that," she explained.
"I won everything that I wanted to. It was a good chance for Amy (Roberts) to go to Guadalajara too - she's been to world cups before but not with Great Britain like that.
"For her it was a massive chance to get that experience. I've done plenty of world cups and been living in Manchester for over seven years now, so I've been doing this quite a while and it's good to be getting the younger riders involved."
Rowsell, though, knows she cannot rest on her laurels due to the competitive nature of Great Britain's squad.
"The competition within the squad is a really positive thing in terms of us beating the rest of the world," she said.
"That's probably our secret to success because every day in training you are being pushed by somebody. You've always got to prove yourself to be in the team.
"Everything is timed and recorded, so there's no hiding at all, which isn't good when you don't do well but great when you're flying.
"I think that's why we have always been successful - because we've always had competition from beneath pushing us on. Because we've been successful, it makes the women want to be part of the squad."
The women's team pursuit event, now extended to three rounds to mirror the Olympic format, takes place on Friday.
"There's an extra round of the team pursuit - qualifying, semi-final and final all on the same day - which is on my birthday too!"
Round two of the 2014/15 UCI Track Cycling World Cup takes place at the Lee Valley Velopark, London, from 5 to 7 December.
Tickets are available from http://www.ticketmaster.co.uk/britishcycling.
Follow the action with updates from British Cycling at www.britishcycling.org.uk/twclive.