Cyclo-cross racing can be loosely described as a mix between road cycling and mountain biking: riding a grippier version of a road bike on tracks, trails – and even through sandpits! Whether you're an off-road rider or prefer a smoother surface, cyclo-cross promises car-free fun, carefully crafted circuits and cheering no matter where you are in the race.
Despite a thriving scene of local events across the UK, cyclo-cross remains a bit of a hidden gem. Stumble across an event however, and it's clear what you're missing out on. Short, looping courses are set up in parks and on school playing fields most weekend mornings during the autumn and winter, with wrapped-up supporters lining the route while people of all ages race their bikes.
Regional leagues mean that each round is an opportunity to have a family day out, meet up with friends made through the sport and test your skill on different courses. The weather plays a big role too of course, with everything including full sun, rain, wind, sub-zero temperatures and snow. This is one of the great draws of cyclo-cross, creating a strong feeling of camaraderie with everyone digging in to face the elements and do their best.
A great start in the sport
For many kids starting out, cyclo-cross, BMX, mountain biking and grass track are their first tastes of the sport due to them being off-road. This is certainly the case for most of the 350 Go-Ride kids' clubs across the country - and provides a huge skills boost as a result of needing to use your whole body to manoeuvre the bike.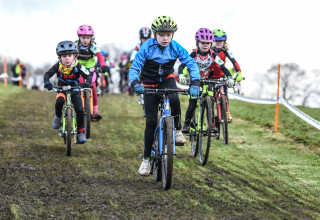 If you think about some of the biggest names in British cycling at the moment, most started off-road. Evie Richards, current world champion in cross-country mountain biking, started at a Go-Ride club in the Malverns, Beth Shriever, Olympic Champion, first hopped onto a BMX aged nine and Tom Pidcock, Olympic Champion in cross-country mountain biking and one of the best road and cyclo-cross riders of his generation began his journey with grass track racing.
Central to the delivery of cycling in Yorkshire is Mandy Parker, who has been involved with local clubs, events and riders for over 15 years. Mandy witnessed Tom Pidcock's first races and knows just how important cyclo-cross is to develop riders and keep cycling fun:
"When Tom started he wasn't very quick or skilled – like any beginner – but he tried every kind of cycling as a young child. He raced the local grass track at the West Riding Track League in Leeds for many years (as did Lizzie Deignan), before moving on to other disciplines. Mainly he just had lots of fun on his bike – and clearly still does.
"There are so many grassroots opportunities to ride your bike, whether it is just to have fun with family and friends or to pursue an Olympic dream. Getting involved with a cycling club and racing a cyclo-cross league will give you friends and skills for life and can lead to so many other adventures."
Open to everyone
Cyclo-cross events are organised by age group, with several events throughout the day to ensure everyone has a chance to race. Starting first are the kids' races, typically held on a shorter course with everything set up to be rideable. Here it's all about having a go and – like the adult races – you can turn up on either a mountain bike or cyclo-cross bike. Kids' bikes are great in that they are designed to ride off-road, so you don't need to go investing in extra kit.
If you're looking to try cyclo-cross a little later in life, the sport is well set up to welcome you – but also keep you interested. The mass-start races soon spread out and for the majority it's about having a race within the race. Beyond the first lap it's tricky to tell who may be first, last or mid-pack, so there is definitely no danger of being left behind. And with conditions changing there is lots to improve on from one lap to the next: trying out different lines, getting off your bike to run or walk sections and learning what will provide the most grip.
When it comes to skills, you don't need to be able to jump on and off of your bike mid-stride and any hurdles can be stepped over. With a stretched-out field you'll have plenty of space to approach a dip, climb or off-camber section and you'll soon see that there is plenty of pushing! And if you're in need of a confidence boost, simply heading to your local park to try a few of the techniques is a great way to start – or why not reach out to your local cycling club to meet other riders who will be heading to events.
One to watch
It's already been hinted at, but cyclo-cross is a brilliant spectator sport. Though you might need to jog on the spot to keep warm from time to time, there is a constant stream of riders to support and making lots of noise is welcomed; many people bring cow bells and horns to really bring the course to life – and the riders will thank you for it. Read our guide to spectating for more tips.
So whether you will be racing or watching, be sure to check out the events coming up nearby. The season starts in September and lasts through until January so there is plenty of action to catch. Plus the Cyclo-cross National Trophy has events running every month that are free to watch where you can see some of the best riders in the country battling it out on challenging courses.