Vicky Loftus is a National Standard Instructor whose love of cycling and commitment to development makes a huge difference in her community.
A keen cyclist growing up, Vicky followed her passion and completed numerous British Cycling qualifications including the Level 2 Coaching, Level 2 Mountain Bike Leadership and Level 1 Ride Leader awards.
Now added to this impressive portfolio is the National Standard Instructor (NSI) qualification which Vicky uses to deliver Bikeability courses and teach the best road practices to adults and children.
In this article Vicky shares her story and discusses what she does as an instructor, how she achieved the qualification and how it has played an important role in her ambition to develop new riders.
Getting started
Before Vicky began studying towards her British Cycling qualifications, she noticed something in her local area:
"I would head out and see only groups of men cycling together and usually one lady travelling alone in the opposite direction. I wanted to get the ladies of North East Lincolnshire to ride together."
Shortly after this realisation, Vicky became a ride leader, qualifying for British Cycling's Ride Leadership Level 1 award.
Reinforcing the skills required to manage risks and deliver rides effectively, she then started leading groups of recreational cyclists to explore new routes and create shared experiences.
Vicky didn't stop there however and also became a qualified Level 2 Coach, Level 2 Mountain Bike Leader, and Cyclo-cross Commissaire.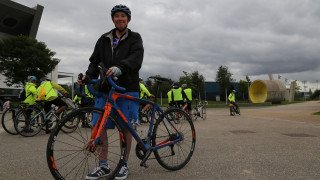 Such a holistic knowledge of the sport and its delivery means Vicky is able to provide a well-rounded service to her clients and riders:
"From being a SkyRide Leader and Breeze Champion, I have noticed that the skills I find natural on the road are not so natural to others," Vicky said.
"I wanted the NSI qualification to help others feel the same confidence to use the roads. Not just adults, but children too."
Meeting national standards
Vicky has received financial support for courses through continued work as a volunteer:
"I've been very lucky and this is probably due to all the hours I have volunteered," she said.
"Funding for courses has come from a few places, either in full or part. This includes my local Go-Ride Club and British Cycling Breeze initiatives."
With the funding support available, Vicky completed her NSI training and now understands the skills used for cyclists and instructors in different road conditions as well as being able to deliver Bikeability Level 1-3 courses effectively.
She helps riders meet high standards of cycling proficiency and positively shapes change in her own community.
"I was really interested in the conversion from traffic free environments to using the roads to develop people's skills so I can up-skill riders in good road practices to keep them safe," said Vicky.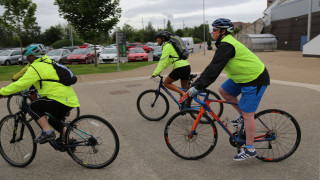 "Rather than participants relying on being led, I guide them to be safer on the roads themselves.
"Having been on a few courses now run by British Cycling, I enjoy the format of progressive learning which allows you to develop your skills over a set period of time. There are quite a lot of shared elements across the qualifications – such as risk assessing – which are really important."
Those going through the NSI course learn how to plan and deliver Bikeability sessions. The Bikeability courses begin at Level 1 by instructing basic handling skills and go all the way through to Level 3, which develops further bike skills in varying traffic conditions whilst being delivered on busier roads.
Inspiring the community
British Cycling's Breeze is the largest programme aiming to get more women to ride for fun and fitness.
"Breeze in our area has gone from strength to strength," said Vicky.
"My love and passion for cycling started here; if I hadn't become a Breeze Champion, I wouldn't have achieved my qualifications."
Accomplished my 150th Breeze ride today @BreezeNetwork pic.twitter.com/z6kHBEs245

— Vicky Loftus (@BreezingVix) May 2, 2016
As mentioned, Vicky has several other qualifications which not only develop her experience as an instructor and coach, but also enable her to teach and inspire future generations.
Through Go-Ride, British Cycling's development programme for young people, and her own project, Vicky utilises her course knowledge to full effect:
"I volunteer as a coach at my local Go-Ride Club and also work as a Community Physical Activities Coach for a local council.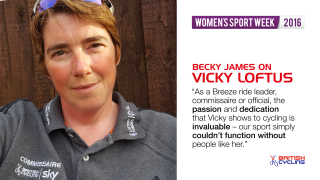 "I've also been delivering a 'Welcome to Yorkshire' project through This Girl Can and have found that throughout the project I've worn all of the various hats of my qualifications – especially now through NSI guided training rides, which are used to bring all the skills learnt together.
"The course gained some really positive feedback from the women as it had them pushing their own boundaries of cycling."
Going forward
Vicky has achieved a vast amount with her British Cycling qualifications and has made a meaningful impact to the lives of new and existing riders in her local area – but that's not stopping her from doing more:
"I would like to move my employment into the cycling world and continue my learning;I have recently booked a place on a Level 3 coaching course. I'd also like to offer progressive coaching sessions for ladies who would like to try racing.
"Taking on these qualifications has had a significant impact on my life. I've met lots of new people and I am delighted to be recognised in the local cycling community."
British Cycling's mountain bike leadership and cycle training manager, Nick Chamberlin, spoke on Vicky's achievements:
"Vicky is an amazing person whose care for the sport of cycling goes way beyond that of most people. The NSI course is a big commitment but it is a complementary one that allows a coach or leader to pass on the vital skills necessary to ride confidently on today's roads.
"Many talented bike riders, and especially young people, lack the knowledge of road positioning and confidence to ride around cars, vans and lorries. Having an experienced coach and leader, like Vicky, bring all her enthusiasm to Bikeability delivery is really exciting."
Start your journey and make a difference in your community. National Standard Instructor courses are available from British Cycling.