Results from week ending 1 April 2012
---
Wosskow Brown BYJL Northern Regional League 1
Location: Astley & Tyldesley, Manchester
Event: 31 March 2012
---
Astley & Tyldesley hosted the opening North Regional Round of the Wosskow Brown British Youth & Junior League series on Saturday, with 54 riders from six teams competing. A busy programme of racing saw 76 heats run over the seven categories, completed in four and a half hours.
Result
U12 team score: Sheffield 168 Astley & Tyldesley 47 Bury 26.
U8 GP result: Ted Bowles (Sheffield); Luke Hill (A & T); Jamie Hill (A & T); Jack Brownell (Sheffield).
U10 GP result: Max Evans (A & T); Tom Whitwam (A & T); Sam Turney (Sheffield); Morgan Turner (Sheffield).
U12 GP result: James Elston (Bury); Ed Morton (Sheffield); Adam Turnbull (Bury); Ellie Sullivan (Sheffield).
Referee - Bill Phillips.
12+ team score: Sheffield 157 Stockport 75 Astley & Tyldesley 40 Hull 31 Bury 19 Heckmondwike 12.
U14 GP result: Adam Phillips (A & T); Reece Pollitt (A & T); Adam Watson (Sheffield); Sam Schofield (Hull).
U16 GP result: Jake Read (Stockport); Kyle Holland (Sheffield); Joe Pickford (Stockport); Richard Hudson (Sheffield).
U18 GP result: Pawel Idziorek (Heckmondwike); Jack Lush (Stockport); Aiden Owen (Sheffield); Ali Lam (Stockport).
Girls GP result: Sandra Tamborska (Sheffield); Amber Webster (Sheffield); Georgina Healey (Stockport); Katy Unwin (Sheffield).
Referees - Bill Phillips and Andy Schofield.
---
Northern Combination - Stockport v Astley & Tyldesley
Location: Astley & Tyldesley, Manchester
Event: 1 April 2012
Astley & Tyldesley, made the short trip to Stockport for a Northern Combination League match on Sunday. The visitors took the lead with a 6-4 heat win in the first race and never looked back.
Holding a seven points lead, Astley & Tyldesley effectively sealed the match in heat 8, when Jake Read was excluded for slowing and bringing down Adam Phillips on the last bend, as the Astley rider pulled off a smart pass. The ensuing 7-2 heat advantage gave Astley & Tyldesley an interval lead of 45-33. A really good solid team display throughout the match saw the away side run out 83-65 winners.
Adam Phillips and Joel Partington led the way, each dropping just one point to Jake Read from their five races, whilst Reece Pollitt dropped just two points. The others all weighed in excellent support to the top trio, to make it a real team effort. For Stockport, Jake Read was unbeaten apart from his heat 8 exclusion, with Joe Pickford winning two races.
Astley & Tyldesley benefited from a three pronged attack, led by the three P's - Phillips, Partington, Pollitt - to make it three wins out of three for Astley & Tyldesley in the league this season.
Result
Stockport 65: Joe Pickford 17, Jake Read 15 (1), Callum Smith 14, Derek Garnett 7 (2), Danny Dyson 7, Georgina Healey 3, Keiran Smith 2.
Astley & Tyldesley 83: Adam Phillips 19, Joel Partington 18 (1), Reece Pollitt 18, Stefan Whitelegg 9 (2), Roy Heslop 6 (2), Beccy Heslop 6 (1), Max Evans 4, Ron Makin 3 (1).
Referee - Ben Higham.
---
Northern League - Sheffield v Bury | Northern League
Location: Sheffield Cycle Speedway, Sheffield
Event: 1 April 2012
Sheffield CRA Rockets opened their 2012 Northern League home season with visitors Bury triumphant by 81-99 in a match that provided plenty of entertainment for the watching crowd.
Radek Handke won heat 1 but then Bury showed superior team riding in heat 2 as Ben Scrannage and Neil Howarth took a 7-3 over Aiden Owen. Scrannage was also involved in Bury's second 7-3 in heat 5 as they raced into a ten point lead. The next three races were all drawn with Aiden Owen performing really well to relegate Chris Parrish to last place in heat 8.
However a Bury 6-4 from Howarth and Ryan Livesey to the visitors into a 39-51 interval lead. Kyle Holland had a great scrap with Scrannage in heat 10 with the Bury rider having to use all of his skills to get past the Sheffield youngster. Then Aiden Owen and Louis German took a brilliant maximum 7-3 race win in heat 11 to reduce the arrears to eight points and perhaps an unlikely comeback was on the cards. The start of heat 12 saw the Sheffield pair of Handke and Liam Webster holding a surprise 7-3 position and a real chance to halve the deficit to four points.
Disaster struck on turn two of the second lap as Webster got his cornering all wrong and forced his teammate wide on the track, this allowing Bury's Neil Howarth the chance to nip through and take the race win.
Bury then rammed home 7-3 wins in the next two races and the lead had been increased to 62-78. The best race of the day came in heat 15 when the Sheffield pair of Owen and Richard Hudson secured a 7-3 win over Joe Allen and Ryan Livesey. On the first turn of lap three the four riders all swopped positions with Allen going from last to first to last within the corner while Hudson went from first to last to first at the same time, quite remarkable racing.
Handke was tops again for Sheffield dropping just the one point while Scrannage was unbeaten for Bury, who had the more solid all round team performance.
Result
Sheffield CRA Rockets 81: Radek Handke 19, Kyle Holland 15, Aiden Owen 12+2, Louis German 10, Richard Hudson 8+2, Liam Webster 7+1, Andy Blackburn 5, Luke Morton 5.
Bury 99: Neil Howarth 17+1, Ben Scrannage 17+3, David Renc 14+1, Steve Whittaker 14, Chris Parrish 12+3, Joe Allen 9+2, Will Owens 9, Ryan Livesey 7.
---
Northern Combination - Sheffield v Bury
Location: Sheffield Cycle Speedway, Sheffield
Event: 1 April 2012
The first Northern Combination match saw the all girl Sheffield Phantoms defeated by 52-97. David Renc and Joe Holleron were both unbeaten for Bury who recorded nine 7-3 maximums in the 15 heats.
Vicky Brown and Sandra Tamborska recorded race wins for the Phantoms. But the only other Sheffield rider to beat a visitor was Amber Webster, although Ellie Sullivan gave it her best in every race and was just edged out on the line in heat 11 by Steve Mann.
The girls' plight was not helped by both Tamborksa and Webster carrying injuries from recent heavy crashes and Billie Owen was sidelined after suffering injury from a first race crash.
Result
Sheffield Phantoms 52: Vicky Brown 12, Sandra Tamborksa 11, Ellie Sullivan 9, Amber Webster 9, Katy Unwin 5, Alice Unwin 3, Niamh Morton 2, Billie Owen 1.
Bury 97: David Renc 20, Joe Holleron 16+4, Ryan Livesey 16, Will Owens 16+2, Steve Mann 15+1, James Elston 14+4.
Bury then completed a hat trick of wins by taking the Northern Combination match against the Rockets by 66-84. Sheffield started well by taking heat 1 with a 6-4 from Andy Blackburn and Richard Hudson. The scores were levelled in heat 3 when Bury's Ryan Livesey and James Elston turned a Sheffield 6-4 into a Bury 6-4 with good passes on Karol Mikolayczyk and Niall Morton.
Heat 5 saw Bury take the lead with a David Renc/Joe Allen 7-3 maximum over Kyle Holland as the Sheffield rider made a big mistake on the last lap against good Bury team riding. Hudson and Holland bagged a maximum 7-3 win in heat 9 and the scores closed to a Bury lead of 43-47.
Over the last six heats Sheffield were able to provide only one race winner, with Holland in heat 12, and with Bury's Allen and Livesey going on to complete unbeaten scores the visitors has secured the league points in all three matches.
Result
Sheffield CRA Rockets 66: Richard Hudson 15, Karol Mikolayczyk 12, Andy Blackburn 9,+1, Kyle Holland 9+1, Rob Mawhood 8, Ed Morton 7+2, Niall Morton 4+1, Linden German 2.
Bury 84: Joe Allen 19+1, Ryan Livesey 16, David Renc 14+1, Joe Holleron 9+1, Will Owens 9, James Elston 7+1, Steve Mann 6+1, Adam Turnbull 4.
---
Northern League - Hull v Edinburgh | Northern League
Location: Hull Cycle Speedway, Hull
Event: 1 April 2012
Hull opened their Northern League season by welcoming Scottish rivals the Edinburgh Falcons to the Hessle Raceway on a bright Sunday afternoon.
Both sides were down on riding strength from previous years with Hull missing a number key riders and Edinburgh's Robert Bandosz still banned after last year's ill fated fixture. Despite this Hull still packed a top end of Andy Angell and Adam Stephenson while Edinburgh opted for more strength in depth including Scottish internationals Craig Newsom and Jake Sleight as well as trying out a few new faces recruited over the winter.
The meeting kicked off with two drawn heats courtesy of wins to Stephenson and Angell while Edinburgh packed the minor places. The visitors drew first blood in the third with a win for Neil McPherson over Ben Swanborough and the evergreen John Murphy keeping Lewis Aylmer out of the action.
A second win to Stephenson kept the scores level in the fourth before Jake Sleight and Mushum Czariski combined in the fifth for 6-4 advantage over Andy Cooper and Rich Pawson. Swanborough and Aylmer settled for a shared heat in the sixth while a third win for Stephenson in the seventh prevented the Falcons pulling away from Hull's reach.
Andy Angell produced a classic piece of riding in the eighth to dive under Newsome on the line with Ian Swanborough having the ride of his life to keep Jake Sleight at the back despite still suffering with an unfortunate back injury. This put Hull only four points down going into the interval with the scores at 38-42.
The match was shaping up to be a cracker with neither side willing to budge an inch as the dusty Hull track was watered again whilst both teams took a much needed rest and discussed tactics of what to do in the next half.
Disaster then struck for the home side in heat 9 as racing got back underway with Edinburgh taking a maximum 7-3 heat advantage. Hull however hit straight back in the tenth with a well worked 6-4 from Aylmer and Pawson over Lee and Czariski. Heats 11, 12 and 13 were then shared with further wins to Angell and Stephenson, and the Swnborough/Aylmer pairing again working together to pack the minor places.
Another super ride from Ian Swanborough backed up by partner Andy Cooper then put Hull right back in the game with a 6-4 advantage over Murphy and Czariski. There was now a single point in it with the visitors leading 70 points to Hulls 69 and just four more heats to go.
Andy Angell's fourth straight win in the fifteenth kept the deficit singular as did an excellent win to Ben Swanborough in the sixteenth over Craig Newsome. Stephenson then completed a maximum score in the penultimate race by leaving Hewitson at the gate after the second time of asking to set up a match deciding final heat.
Angell again lined up for the home side this time alongside Aylmer who was enjoying his first competitive match after a year out of the saddle. For the visitors John Murphy partnered reserve change Mushum Czariski from the outside grids. At the start Aylmer made a storming gate from the inside to lead coming out of the first turn while Angell kept Czariski at the back to ease the pressure before later storming past Murphy to join Aylmer at the front and ensure the league points remained in Humberside. Unusually this was the first time the Hull side took the lead all meeting, but most importantly was right when it was needed.
All in all the match was a world away from the previous year's debacle, raced in a friendly and sporting manner well refereed by Bury's John Whiting, with neither side receiving a single exclusion. For Hull Stephenson and Angell both rode unbeaten by an opponent whilst both Swanboroughs and Lewis Aylmer were instrumental in taking the win. Reserves Andy Cooper and Rich Pawson also played an important part despite facing a tough formula layout after David Cooper suffered an arm injury early on in the meeting.
Edinburgh will feel aggrieved after leading right up until the final whistle but the performance of some of the newcomers should put them in good stead for the future. Both sides look forward to meeting again later in the year for the return leg, whilst Hulls next match takes place at Sheffield on 15 April.
Result
Hull 69: Adam Stephenson 20, Andy Angell 19+1, Lewis Aylmer 14+1, Ben Swanborough 14+1, Ian Swanborough 9, Andy Cooper 7, Rich Pawson 5.
Edinburgh 88: Mikey Hewitson 16+1, Craig Newsome 15+1, Neil McPhearson 14+2, Jake Sleight 13+2, Chris Lee 11+2, John Murphy 11+2, Mushum Czariski 5, Callum Sleight 3.
---
S&SW Regional League - Poole v Newport | South/South Wales League
Location: Poole Cycle Speedway, Poole
Event: 1 April 2012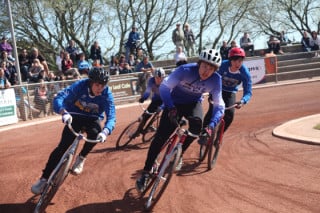 A close encounter was the most common pre-match assessment by both clubs but after five evenly contested races, Poole suddenly pressed the accelerator pedal and left the Welsh visitors for dust in front of a healthy Harbourside Park crowd exceeding 250.
The rot started in heat 6 for Newport when Arron Morgan teamed up with Wil Bristowe for a 7-3 swiftly followed by the same again from Sam Hearn and Ben Donohue when Mark Carmichael came to grief attempting a pass on Hearn. Newport looked to be fighting back with a 6-4 on the cards in heat 8 but their world came crashing down with simultaneous exclusions for Nicky Evans for slowing after warnings and Jack Harrold for an overzealous challenge on Pete Young.
By the time Arron Morgan featured in another 7-3 with Luke Armes before the break, Poole were out of sight on 55-31. Three tactical rides for their top trio after the interval and gates 1 & 3 for the whole of the second half allowed the visitors to restore some self belief and two wins apiece for Jack Harrold and Olli Sidwick were well deserved. Poole will once again be a tough nut to crack on their home circuit but the SWL chances of the 2010 champions will depend on their form away from home.
Division 1 result
Poole 96: Arron Morgan 17, Sam Hearn 17, Ben Donohue 13, Pete Young 13, Arron Smith 12, Wil Bristowe 11, Luke Armes 11, Dave Oddie 2.
Newport 78: Mark Carmichael 16, Olli Sidwick 15, Jack Harrold 14, Chris Davies 10, Joe Lewis 9, Nicky Evans 8, Colin Simmons 5, Jacob Soper 1.
Referee - Mike Legge
Division 2 result
Poole 73: Kyran Yeatman 16, Dave Oddie 10, Kristina Mines 9, Jay Briggs 8, Shane Hanmer 7, Callum Albin 7, Niall Instone 6, Callum Smith 5.
Newport 54: Kevin Greaves 12, Stuart Ward 10, Jacob Soper 10, Rebecca Davies 8, Lee Bonici 8, Amy Poole 3, Kirsty Ward 0 (Wdn).
Referee - Dave Newman
Conference League result
Poole 70: Shane Hanmer 13, Callum Albin 12, Jay Briggs 10, Kristina Mines 9, Arron Smith 8, Niall Instone 7, Callum Smith 6, George Newman 5.
Newport 50: Stuart Ward 12, Rebecca Davies 12, Jacob Soper 10, Lee Bonnici 8, Amy Poole 4, Kirsty Ward 4.
Referee - Dave Newman
---
Wosskow Brown BYJL S/SW Regional League 1
Location: Newport Cycle Speedway, Wales National Velodrome
Event: 31 March 2012
Result
Under-12 Team Scores
Poole 148, East Newport 79, Exeter 70, Newport 46, Swindon 46, Horspath 29, Southampton 17.
Under-8
1st Nathan Goulden (Poole) 2nd Harry Stanbury (Exeter) 3rd Jack Richards (East Newport) 4th Jasmine Oddie (Poole)
Under-10
1st Owen Tidball (Exeter) 2nd Jack Currell (Horspath) 3rd Max Russell-Sharp (Horspath) 4th Alice Neighbour (Swindon)
Under-12
1st Will Tidball (Exeter) 2nd Shane Hanmer (Poole) 3rd Ieuan Payne (East Newport) 4th George Newman (Poole)
Over-12 Team Scores
East Newport 73, Poole 68, Newport 61, Horspath 53, Swindon 48, Exeter 36, Southampton 35, Hellingly 22.
Girls
1st Livvy Horsley (Horspath) 2nd Charlie-Jane Herbert (Horspath) 3rd Kristina Mines (Poole) 4th Lauren Hookway (Exeter)
Under-14
1st Ethan Greenslade (Swindon) 2nd Jake Neighbour (Swindon) 3rd George Horsley (Horspath) 4th Adam Bennett (East Newport)
Under-16
1st Aaron Smith (Poole) 2nd Jesse Moore (Hellingly) 3rd Hayden Chant (Southampton) 4th Jacob Soper (Newport)
Under-18
1st Dan Bock (East Newport) 2nd Aaron Hughes (East Newport) 3rd Stephen Archer (Hellingly) 4th Joe Lewis (Newport)
South & South Wales Championship totals
Poole 211, East Newport 152, Newport 107, Exeter 106, Swindon 94, Horspath 82, Southampton 52, Hellingly 22.
---
SE Division 2 - East London B v Norwich | South East League Div 2
Location: East London Cycle Speedway
Event: 1 April 2012
Report: Glenn Grange
The new look Norwich Stars travelled to Canning Town Rec on Sunday afternoon to take on a veteran East London side in the South-East League Division Two.
Buoyed by their success against the Ipswich Eagles last weekend in Division Two, Norwich opened the match with shared scoring heats and took the lead in heat 3 through Richard Hunt and the returning to the saddle Paddy Wenn who went on to score a 6-4 heat win (14-16). East London hit back in the next heat with a 7-3 heat win (21-19), leaving the next three heats as shared scoring heats.
With the interval approaching, Norwich's Alan Parkins and Oliver Riley returned the Stars to the lead with a heat 8 maximum heat win, to lead at the break by 39-41. In the second half, East London were the stronger of the two teams, with three shared scoring heats the best that Norwich could do. East London went on to finish very strong, recording two 7-3 heat wins and a 6-4 heat win to bring the match score after 16 heats as East London 84, Norwich Stars 74.
With penalty points coming into play as East London tracked a restricted rider in their line up in the form of Lee Galley, Norwich went and added the 15 penalty points to their total to finish up as the match winners by 84-89. This win leaves Norwich sitting at the top of Division Two, but there is still a long way to go yet before any silverware is handed out.
Norwich also welcomed back to the track Paddy Wenn after being out for at least 15 years or more.
Result
East London 84: Lee Galley 24, Dave Hughes 5, Nicky Gunkel 21+2, Kevin Smith 8+2, Alan Busby 15+1, Steve Myhill 11+1.
Norwich Stars 89: Steven Clare 10+1, Danni Riley 13+1, Alan Parkins 17, Oliver Riley 11+3, Richard Hunt 9, Paddy Wenn 8+2, Alex Dyball 4, Dane Parkins 2.